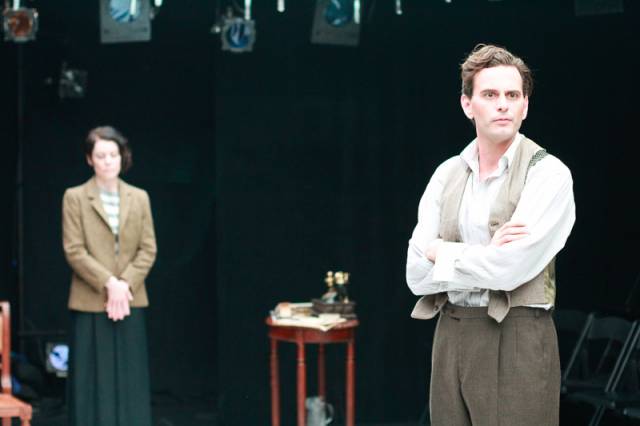 Bixby Elliot's original play Sommerfugl tackles a very important subject at a very timely point in its public discussion. Within the last few years, the topic of gender identity has reached a broader audience, and InViolet Theater's production successfully makes its voice heard as well.
Sommerfugl (Danish for "butterfly") begins by introducing us to Einar and Grete Wegener (Wayne Wilcox and Aubyn Philabaum, respectively), two married painters living in Paris. When Grete's friend fails to arrive for an appointment to be painted, Einar steps in to save the day by donning a dress and holding flowers and a parasol, adopting the name "Lili" for the occasion. Day by day, Einar finds himself preferring to wear dresses and play the role of Lili, but it becomes very apparent that "Lili" is no role, and that "Einar" has been the real act all along. What's more, Lili finds herself suddenly attracted to their friend Claude (Bernardo Cubria), who despite being married to Anna (Michelle David), is smitten as well. Eventually health issues require Lili to visit a doctor, and the idea of a gender reassignment surgery is optioned, after which she is truly allowed to be herself. However, she quickly finds that the life she lived as Einar must be left behind.
Based on the true story of Lili Elbe, one of the first known recipients of sex reassignment surgery, Elliot's play takes certain liberties with the story, but nonetheless tells a touching story of finding one's true identity, and the sacrifices that come with starting a new life. Director Stephen Brackett uses the tiny space below the 4th Street Theatre well, keeping the action constantly moving with few breaks in the narration. The set is as minimal as they come, with two chairs and two tables, and it is Zach Blane's lighting design that really transforms the setting from scene to scene, with its blinding white hospital lights or mellow yellow summer day lighting.
While there are only four performers in the production, half of them playing multiple characters, this cast really delivers. Wayne Wilcox, known for his work in Gilmore Girls and the film version of RENT, perfectly plays Einar as a man seemingly acting his way through life, and when he throws on a dress and becomes Lili, he plays a woman truly living for the first time. Aubyn Philabaum is devastating a Einar's wife, who wants only the best for her husband even as it forces her to question her own life choices. Michelle David plays multiple roles and yet manages to portray all of them with different personality traits, and Bernardo Cubria carries three roles as well, endowing each with a likable charm.