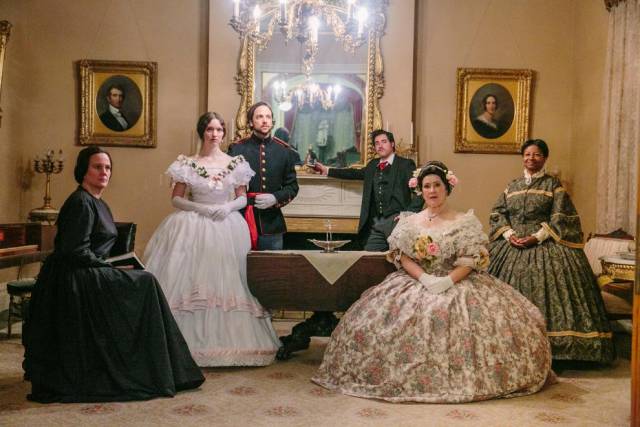 In Lincoln's Blood, a play at the New York International Fringe Festival, director and playwright Garrett Heater explores the ramifications of the president's murder by focusing on three figures whose lives were forever changed by it.
We are first introduced to Major Henry Rathbone (Heater) and his fiancée Clara Harris (Maya Dwyer), who debate accepting an invitation from the Lincolns to attend the fateful showing at Ford's Theatre. Their playful words and antics create the illusion of just another night in the couple's home, until a shift in the stage lighting and a darkening of Rathbone's mood tells us all is not as it seems.  Next is the first lady herself, Mary Lincoln (Kate Huddleston), as she too prepares for a night at the theater while trading stories and gossip with her modiste Elizabeth Keckley (Karin Franklin-King), blissfully unaware of the tragedy to come. Finally we meet Mary Surratt (Karis Wiggins), a boarding house owner pulled into the assassination plot as she speaks with the killer himself, John Wilkes Booth (Ryan Santiago).
It becomes clear that these scenes are merely the memories of Rathbone, Lincoln and Surratt as they spend their days following the assassination in their respective asylums, replaying the night in their heads and hoping for a different outcome. Rathbone's descent into madness is particularly tragic as he continuously plots out ways to stop Booth, years too late.
The performances are stellar across the board, with some particular standouts. Santiago's Booth carries a swagger that properly showcases the fame the man enjoyed in his career. In addition to penning and directing this dark and compelling show, Heater successfully conveys the tortured Rathbone, and young actress Dwyer gives her all in an emotional performance as Clara.
Whether you're a history buff or just a lover of theatre, Lincoln's Blood is a brilliant psychological drama about the effects Lincoln's death had on those around him.