Review: RadioTheatre's Seventh Annual H.P. Lovecraft Festival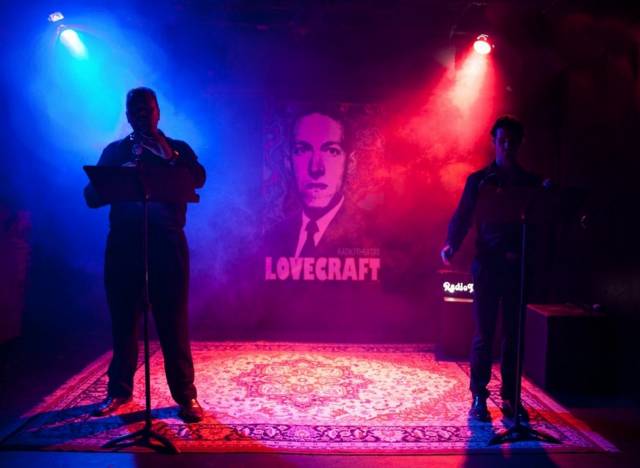 In its seventh annual celebration of horror master H.P. Lovecraft, RadioTheatre puts on another series of staged readings in the style of '40s radio dramas. As part of New York's FRIGID Festival, for two weekends RadioTheatre will be honoring the late author on stage at the Kraine Theater, a man who was never truly appreciated in his time.
Opening night started strong with three Lovecraft classics, beginning with The Curse of Yig, a tale of revenge about the titular snake god, narrated with giddy menace by Joshua Nicholson. In this adaptation, Nicholson's asylum doctor regales a visitor with the tragic tale of a husband and wife (portrayed by Frank Zilinyl and Chloe Lewis, respectively) who relocate to Oklahoma, where they inadvertently offend the mythical creature. Next up is Hypnos, narrated by Lewis in traumatic fashion as she recounts her character's experience exploring a realm beyond human sensation, only accessible in one's sleep. The horrors she and her companion experience in this world cause them to fear sleep itself. Using only the actors themselves, three music stands, moody lighting and a haunting music score, these readings effectively pull the audience into the world of Lovecraft's imagination.
The final tale of the night, The Horror at Red Hook, brings the terror home to Brooklyn. Frank Zilinyl returns to the stage to portray a detective investigating a man's disappearance, whose findings bring him into contact with demonic forces. Zilinyl's gruff Irish cop is an entertaining narrator as the audience watches his inevitable descent into horrified madness. Red Hook enlists the use of a fog machine and strobe lighting to make this the most atmospheric production of the night. The only thing missing was a story involving Lovecraft's most famous creation, Cthulhu; if that's more your fancy, then be sure to catch the Festival's October 11th production (The Call of Cthulhu).
RadioTheatre's success with their Lovecraft Festival is in thanks to a talented cast of stage and voiceover actors, the legendary author himself, and director Dan Bianchi, who adapts each of the stories from their original text. Entertaining fans of Lovecraft's classics, as well as introducing younger audiences to the man's works, these showings are perfect for celebrating the Halloween season. The Old Ones approve.