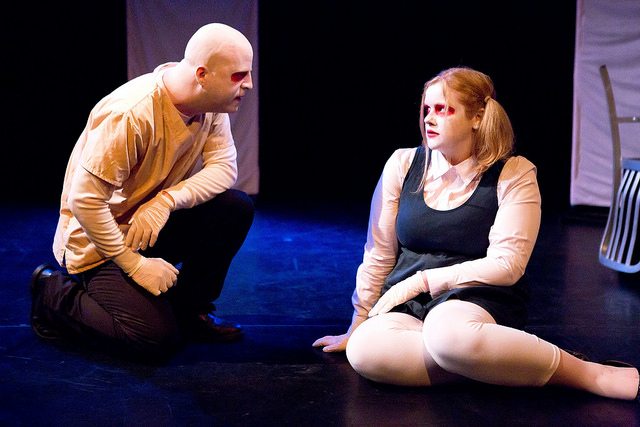 Inspired by Paris' legendary playhouse of horror, Le Theatre du Grand Guignol, Blood Brothers productions presents Bedlam Nightmares: Execution Day, an anthology of short plays focused on the bizarre, the horrific and the insane. The show is currently running at The Brick Theater in Williamsburg.
Like the Grand Guignol, which terrified and revolted Paris for decades, Bedlam Nightmares: Execution Day takes its inspiration from three essential themes: lurid crimes torn from the headlines of the day, the madhouse (or today's version of the madhouse, death row) in which the lunatics are the actors, and grotesque puppetry (Grand Guignol actually means "big puppet").
The plays, written by Mac Rogers, Nat Cassidy and Mariah MacCarthy, are framed by the impending execution of the Blood Brothers, two sinister fellows with shaven heads and red-rimmed eyes played by Pete Boisvert and Patrick Shearer. The brothers committed some horrific crimes before being committed to a lunatic asylum version of death row along with some other unsavory characters. The prison/madhouse is run by Doctor Queen, played by Kristen Vaughan. Doctor Queen is depicted as a mover and shaker who has gleefully invited a few other fat cats to witness the execution. But before the criminals are dispatched we are shown a few gruesome stories concerning the other inmates of the asylum. These are plays of murder, insanity and imprisonment. One of them, "All In Good Fun", is actually something of a musical number, the horrors sung by the character of the Troubadour, played by playwright, actor and songwriter Nat Cassidy. As he sings a ballad about an unfortunate nurse and her child, shadows appear on movable screens behind him, depicting the story's horrors. My favorite of the plays was "Joy Junction", a story about a man and his puppet. It was disturbing, haunting and utterly revolting, the highlight of the evening. I won't go into detail about what the puppet actually is, but it reminded me of something I once thought of after consuming a large meal and an entire bottle of scotch.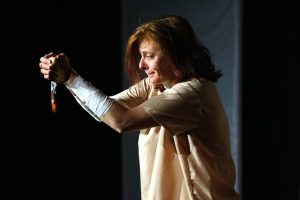 There is even a dash of politics thrown in as Doctor Queen compares the horrors of the Blood Brothers to the crimes of her own league, the One Percent, in a speech reminiscent of Charlie Chaplin's final monologue from Monsieur Verdoux.
The performers all relish the horrors they depict, whether they are portraying killer or victim (the lucky ones got to be both). The violence is indeed bloody. One fellow gets his intestines removed by hand. Another victim vomits onto the stage floor before dying from poison. Many others are sliced and/or stabbed. A few of the plays are overlong, belaboring their points a bit, but they are each quite different from one another and yet fit nicely together into the larger story. The play seems quite well suited to the space; The Brick is dark and shadowy. Fans of the macabre should find something to enjoy in Bedlam Nightmares: Execution Day.
Bedlam Nightmares: Execution Day continues its run at the Brick through November 1. For more information and tickets, visit https://www.bricktheater.com/