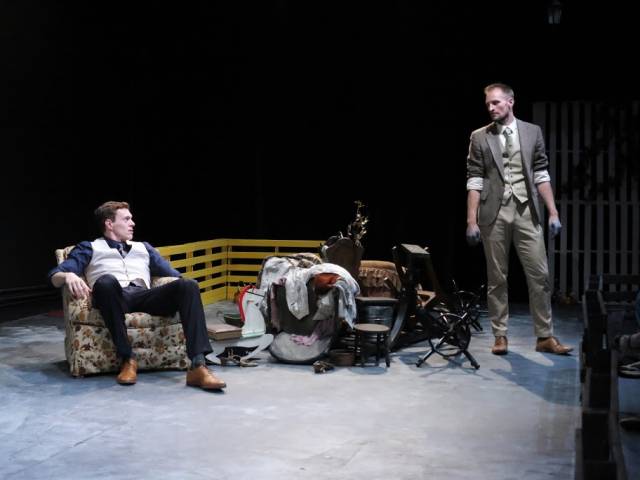 August Strindberg is a master of the enigmatic narrative. His plays often have an intangible quality to them, whether it be because of mysterious backstories or curious motivations. The Swedish writer is often characterized as a naturalist, like many of his late 19th-century peers whose works continue to resonate. But something is a little off about the world Strindberg manufactures. There's something menacing about it.
Such is especially the case in Burnt House (sometimes translated as The Burned House or The Burned Site), one of the writer's last dramas. It was first produced in 1908, and a little more than a century later it is in New York at the Gene Frankel Theatre. It is being produced by the August Strindberg Repertory Theatre – in a new translation by Robert Greer – so naturally a dedication to the playwright and an understanding of his manufactured menace is to be expected.
Sure enough, the ideas behind the words are done justice in a number of ways. The music and the stage design (You-Shin Chen) coalesce to create a curious otherness; the world feels routine, mechanized and somehow sterile. All of this makes for an interesting juxtaposition with the nearly all-consuming fire that provides the narrative spark of the play.
While the technical side of the production directed by Whitney Gail Aronson sets a fitting tone, the acting feels inconsistent; the styles do not quite mesh. Some of the actors do exceptional work, and seem as if they inhabit – if not completely belong to – the world constructed for them. Michael Donaldson is a physical and aural specimen as the Mason. Every move and sound is exacting and immersive. And Jason Paul Tate has some wonderful, sometimes devastating moments as the Dyer, the man who stands to lose the most in the ashes of the edifice.
If the acting as a whole came together more, Burnt House would be an immersive experience, brimming with exciting strangeness, complete with fully-realized Strindberg nihilism. But when the styles clash like they do here, it becomes difficult to extract meaning beyond the words as they have existed on the page for over a century.