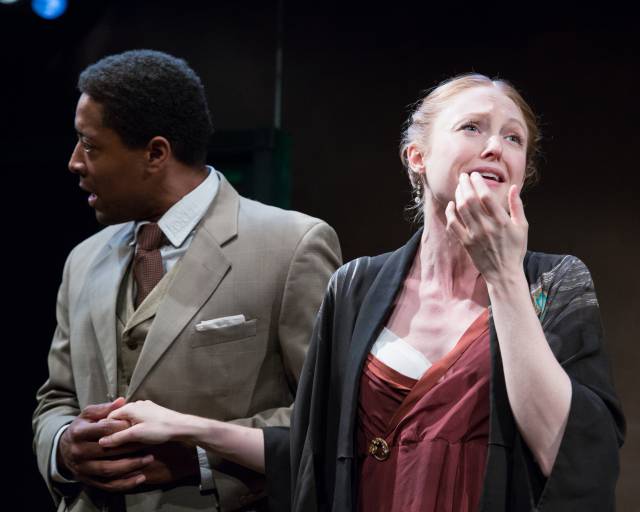 For nearly two full decades, The Metropolitan Playhouse on West 4th Street has been dedicating itself to the legacy of American theater – in all its various incarnations. Per its own website, the company "explores America's theatrical heritage to illuminate contemporary American culture," often through the staging of lesser-known plays by better-known playwrights. It is not surprising that their O'Neill (Unexpected) program includes two very early and very rarely produced Eugene O'Neill plays in Recklessness (1916) and Now I Ask You (1913), both directed by Alex Roe.
For any audience even remotely familiar with the seminal American playwright's more well-known material, these plays make for curious viewing. What kind of a start did the early American great have? Those at the Metropolitan Playhouse invite this kind of critical viewing, but they also realize that from the very beginning, O'Neill was writing plays riddled with actor-friendly roles.
In Recklessness – a one-act tragedy that borders on self-parody – one of the meatiest roles goes to Gene. Gene is a servant for a wealthy older man named Arthur Baldwin who has taken a much, much younger bride in Mildred. Gene is a patient and quiet servant at first, but she's also a spurned lover, and in the hands of Eden Epstein, she is a calculated schemer prepared to burst into a controlled rage when the moment calls for it. While the narrative itself is a bit difficult to believe at times, there is power in O'Neill's tragic writing even from the start – in no small part because of the emotional potential of the brief but impactful characters who present themselves in all their subtlety and fury.
Now I Ask You juxtaposes oddly with the tragic one-act it's paired with here, as it is an over-the-top comedy of young love (and lust) and misunderstanding. Terrell Wheeler is the actor who most takes advantage here as Tom Drayton, a business-minded young man who marries Lucy, a free-love advocate and amateurish dilettante. The production of Now I Ask You is a bit trying in its stark departure from the realism O'Neill generally intended for, but Wheeler makes the most out of his jealous husband role; he manages to convince in being both naïve and conniving.
To analyze these plays – even in the moment as they're being performed – is a bit of an exercise in hopeful hindsight bias. It is impossible to not search for the early dramatic strengths of a playwright who would develop into arguably the greatest in American history. Many of the constructs of Recklessness and Now I Ask You come off as hackneyed or unnatural, but one thing is clear: O'Neill always had an ear for dynamic actor's dialogue.