Wolf in the River – Adam Rapp's new play, being performed by The Bats at The Flea – is an impressionistic look at the destitute and depraved. It is something like a True Detective nightmare imagined by a young Tracy Letts, but it is neither exploitative nor derivative.
Too much summarization would diminish the experiential intentions of the play. There are nameless characters who circle the small, intimately arranged audience throughout the piece, often chanting or singing in portentous tones. There are long stretches of hallucinogenic dialogue that don't bother to even hint at an expositional impulse. Even the "world" of the play, if it can be called that, is almost entirely beyond our grasp.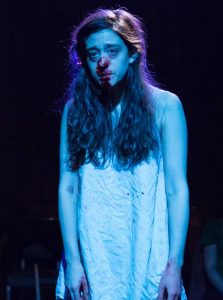 And yet, there is a relatively brief scene – one that is mostly grounded in realism – that acts as the emotional center of this play. Tana (played as a precocious ingénue by Kate Thulin) is sunbathing in her dirty Southern town when Debo (Maki Borden) comes upon her on his makeshift paddleboat. He claims he's from Illinois; she is nowhere near there. He talks about the specifics of the new engine he's going to put in his hatchback, and she listens attentively (even if she has only a superficial interest in any of his earthly vessels). The details make the encounter real, but they only matter to the characters inasmuch as they act as covers. Tana and Debo can avoid saying too much about what they're really thinking by attaching their words to simpler ideas. In the end, it seems as if some strange, fated connection might have really been forged – even if the young love that sprouts is as superficial as Tana's hatchback curiosity.
It is one small moment in a stream of dislocated scenes, but it is a welcome reprieve from the insanity and the menace. At times (especially toward the end of the play), the constancy of the shouting and the breathless vocabulary of the dialogue can be exhausting. The quietude of this single river scene is something to cherish – but then again, it wouldn't mean as much if it weren't a still island in a sea of chaos.
With all of its untraceable strangeness, Wolf in the River really only hints at the grotesquely violent. There are suggestions of much more horrible things, but the choice not to completely reveal the worst creates a much greater unease than the almost cathartic release that onstage brutality can bring. The fact that there is such a gentle budding relationship around which all of this menace occurs only raises the tension. There is an immediacy to the impressionistic appeal of Wolf in the River, but its ideas about the way human beings can instantaneously relate to each other grant it a more permanent universality.