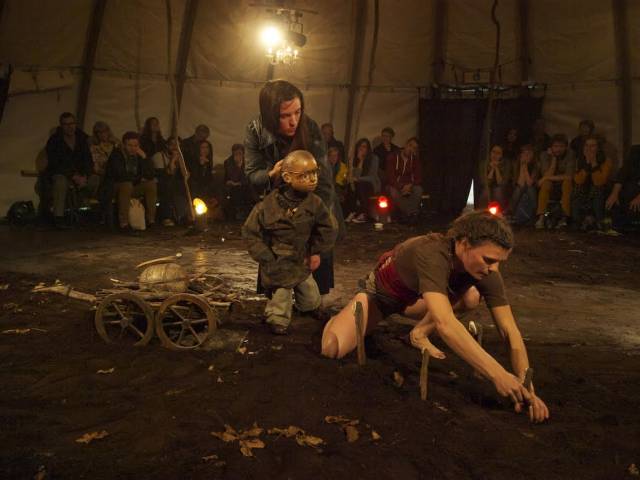 La MaMa's biennial Puppet Series has taken an acrobatic turn this week with Théâtre d'un Jour's high-flying piece The Child Who. The Belgian theatre troupe brings together puppetry, acrobatics, and live music in this grippingly entertaining production.
Directed by Patrick Masset, The Child Who has toured throughout Europe since 2008 under its French name L'Enfant Qui. Based on the childhood of French sculptor Jephan de Villiers, the largely wordless production tells the story of a young child battling an illness. Rather than relying on a traditional narrative, the piece uses acrobats (Michael Pallandre, Caroline Le Roy, Adria Cordoncillo) to bring the child's world to life, stringing together visually-driven scenes that subtly switch between imagination and reality.
It's not always clear exactly what is going on, but this is forgivable, as the piece grips us instead through emotionally engaging performances. The central child, a life-like puppet performed by skilled puppeteer Morgane Robin, is immediately endearing, curious and innocent with a mischievous streak (audience members should mind their purses). Meanwhile, the acrobats' difficult stunts inspire a sense of childlike wonder of their own, sending ripples of awe through the audience with each excellently performed routine.
Each acrobatic thrill is also tinged with precarious possibility, and the piece never allows its audience to feel truly at ease. The performers come out with their axes swinging—literally—and from the potentially dangerous tricks to the random chance of its audience participation, the performance disconcerts even as it entertains. This unsettling edge blended with playful wonder makes for visceral storytelling; we understand the combination of exciting curiosity and fearful uncertainty that define the ill child through emotion instead of narrative.
The production's moody design and music further amplify this foreboding edge. The piece takes place in a forest space, defined by an dirt-covered oval stage and hanging branches, but the production's excellently varied lighting is what transforms the anonymous forest into a haunting space where both soaring fantasies and crushing realities can come alive. The sonorous strains of the cello score, performed wonderfully by Florence Sauveur, add to this ominous yet rich tone. Though first performed in the background, the music even becomes integrated into the acrobatic action, as Sauveur takes the Prelude of Bach's Cello Suite No. 1 to new heights. From airborne cello playing to simpler moments of stirring puppetry, The Child Who's arresting scenes ensure that this deceptively simple tale is not one to be missed.