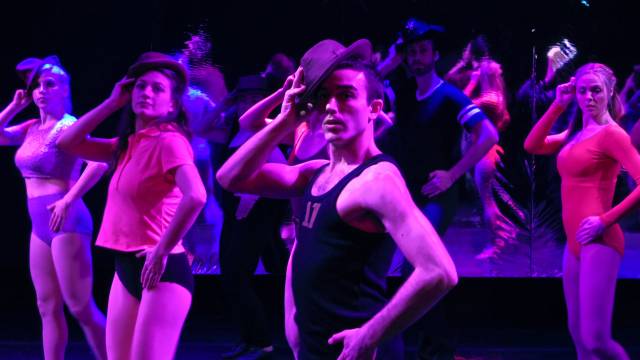 Being in a production of A Chorus Line is almost a rite of passage for any actor trying to make it into musical theatre. An irony really, for the show is about nothing if not last chances; it's a musical about people who have one last chance of being in musicals. Because of the contradictions it poses - a too youthful looking production can be read as naive, a too old ensemble can seem unnecessarily cruel and pathetic - the secret to the success of the show is in its casting. Finding the actors who can bring the characters to life while accepting the fact most of them have to be both archetypes and breathing human beings is the true challenge.
Luckily for The Secret Theatre company in Long Island City, they have found the one person in the world who loves and admires A Chorus Line too much, to do it anything less than justice, while bringing something fresh to the equation. Director Tom Rowan wrote an authoritative book on the musical theatre classic called A Chorus Line FAQ, which dissects the show every which way. Rowan is aware that as long as it stays true to the spirit of Michael Bennett's seminal production, almost any revival of the show will be at the least entertaining. But he brings something that's not always there: urgency.
The actors in the ensemble read much younger than in other productions, but their youth works because it reminds us of how much value our society puts on younger people, and how much "older" people are made to feel much earlier nowadays. We're in a culture in which thirtysomething actresses are thought of as ancient! So to see a youthful Diana (the terrific Geena Quintos) worrying about whether this chorus line gig will be her last chance at achieving something is absolutely heartbreaking.
Due to the size of the stage, the production is by default rendered intimate, and while stagings in larger venues can allow the audience some distance to the point where we can feel like Zach (Matthew LaBanca) the director, in this one we are so close to the action that we can see the sweat beads form on nervous Sheila's (a revelatory Madeline Fansler) forehead, we can practically smell the desperation on Bobby (Caleb Schaaf) and we want to reach out and give sweet Paul (Drew Michael Gardner) a hug, as he talks about his past.