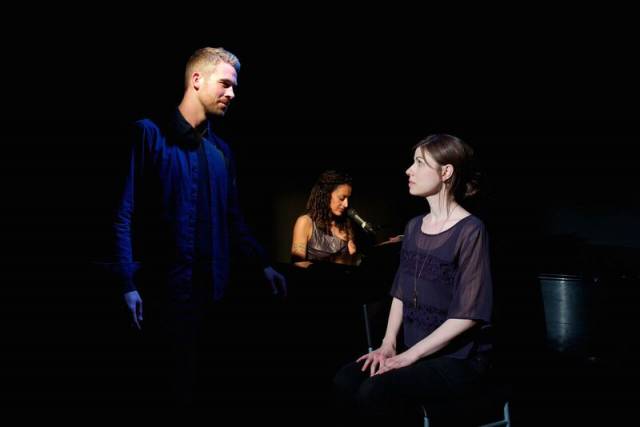 In city life, it always seems as though the possibility of a life-changing encounter could be just a moment away. For the characters of City Stories, currently making its US debut as part of the Brits Off Broadway Festival at 59E59 Theaters, that moment has come. Directed and written by James Phillips, this collection of six short plays (only four of which are performed at each performance) eloquently and thoughtfully explores these moments of connection and how they fuel our own self-discovery.
Subtitled "Love and Magic in London," City Stories could easily be a collection of well-trodden tales dealing in love at first sight and happily-ever-afters. Thankfully, Phillips' inspired collection of plays defies cliche, with stories that range from a man recognizing his lost childhood love in a young artist, to a woman straining to stay awake as Londoners get enveloped in everlasting sleep.
Most of the short plays consist of lengthy narration by one main character that's only occasionally broken up with short dialogue. Phillips' articulate script feels inherently literary, and each central character recounts their tale instead of letting us witness how it unfolds. By taking such a poetic tone, we understand the characters' motivations and innermost thoughts, laying bare the human emotions at each story's core. The downside, however, is that some of the narration drags on too long, and the script favors telling over showing. When pivotal moments are just passively relayed, sometimes their full emotional impact doesn't quite come through.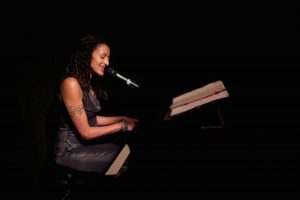 Luckily, working alongside Phillips' script is the production's wonderful musical score, which is composed and beautifully performed by Rosabella Gregory. Though they don't advance the plot, the soulful songs and haunting piano underscoring merges perfectly with the script, adding to the piece's mystically thoughtful tone and infusing a sense of atmosphere that theatricalizes the cerebral script. Also helping to theatricalize the script, of course, is the universally talented cast. Of the pieces at this performance (Occupy, Lullaby, Narcissi, and Pearl), Sarah Quintell proved to be the most compelling narrator, with her performance in Narcissi fusing both pensiveness and humor. The performances take place on a black box stage with just two chairs, though David Howe's understated lighting design elevates the bare trappings.
The production describes itself as a "love letter to London," and indeed the city is what ties these tales together. But with such a stripped down production, it's the script's hyper-precise London references, from a Shoreditch garden to Pentonville Road, that establish the show's sense of place. The British production assumes the audience's familiarity with the city, and for me, a former London resident, the specificity of place conjured images and personal connections that transported the stories beyond the confines of 59th Street. For the average New Yorker who doesn't know Highgate Village or the public piano at St Pancras, though, the production's connection to its titular setting may not come across as strongly.
But the heart of this production is it's relatable humanity, not London. Combined with the scintillating score and eloquent prose, City Stories is worth experiencing no matter where you call home.