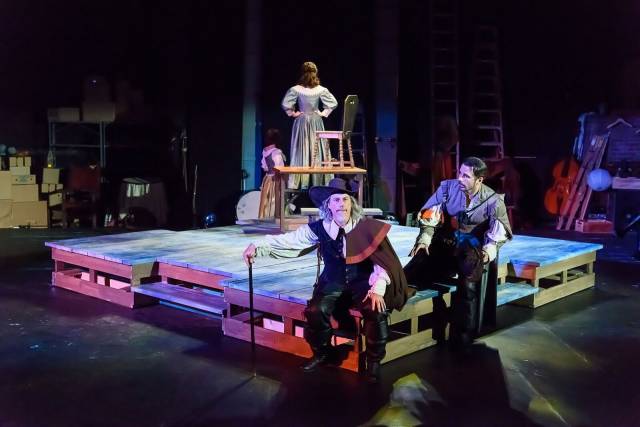 As Edmond Rostand's famously big-nosed romantic who is capable of dispatching a hundred sword-wielding opponents, yet can't quite work up the nerve to tell a beautiful girl he loves her, actor Gabriel Barre exudes a sort of world-weariness that seems to explain why the iconic character seems almost content to live without love. He underplays Cyrano's adventurous personality, almost muttering his witty insults under his breath instead of flamboyantly thrusting them home. He often wears a hangdog expression; almost seeming to prefer a joyless existence. He plays the role almost as a stoic that quite nearly becomes a cynic.
Cyrano de Bergerac has been given a no-frills presentation by the Resonance Ensemble and is being performed in rotation with a new play by Ginger Lazarus, inspired by Cyrano, entitled Burning. Together the plays are presented as "The Language of Love." With Cyrano de Bergerac Barre is not only the star but also the co-director, along with veteran stage combat choreographer Rick Sordelet. The staging is mostly straightforward with the addition of some nice moments that include a lovely pantomime on a revolving stage and some striking shadow play as the performers enact quick action scenes behind a stage curtain lit from behind.
The entire cast performs well, especially Luke Darnell, Mark Peters and Louis Tucci, all in multiple roles. There is a nod to the Globe's triumphant Richard III and Twelfth Night when the audience, upon entering the theater, finds the cast getting dressed in period costumes, practicing their instruments and milling about. Further recalling a bygone era, audience members are offered seats on the stage. Some of them are invited to step forward and enact some of the smaller roles in Act One (the cast of Cyrano's first act is famously huge, a perpetual headache for acting companies that don't number in the dozens). This is a clever solution and it adds to the fun of the play's opening scenes.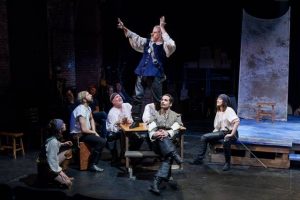 The adaptation is based upon Anthony Burgess' marvelous English verse translation from 1970, further adapted by Barre, Sordelet and actor/composer Alexander Sovronsky. This adaptation is a bit muddled; some interesting bits are removed and some less interesting bits are left in. But both the adaptation and the staging contain some enjoyable innovations, including a final scene that finds several of the supporting actors perched on tall ladders, casually dropping autumn leaves onto the stage. This elegantly recalls the final scene in Gregory Doran's famous production starring Tony Sher. It also provides Barre, as the the disoriented Cyrano, an opportunity to look up and see characters from his past, which adds to the scene's poignancy.
Saracino makes a somewhat introverted yet expressive Roxanne. In fact she is so subtly expressive that I found some of her lines unnecessary; her nonverbal reactions to Christian's awkward wooing and Cyrano's final revelations would have been even more dramatic without the dialogue. Darnell's likable dullard Christian is sympathetic and ultimately endearing. There is a great deal of music in this production, composed by Sovronsky and beautifully played and sung by the cast. Surprisingly, the swordplay is a bit stiff and awkward, rather a shock considering co-director Sordelet's achievements in this field.
Cyrano is one of the most entertaining of all "classic" plays, and yet because of its production difficulties (the aforementioned large cast and its many requirements of the blade) it is not seen very often in New York; the last one I know of starred Kevin Kline and Jennifer Garner (it's easy to know when Cyrano is in town; the critics go positively giddy with nose puns) and that production lowered its curtain over eight years ago.
The Resonance production, while not as star-studded as some, is fairly well done and likely to entertain its audiences.  To me it seemed like a pleasant visit from an old friend who has hardly aged a day since the last time I saw him. As an old theatre lover it was quite refreshing to see the swords, the period costumes and yes, the nose once again. Touché!