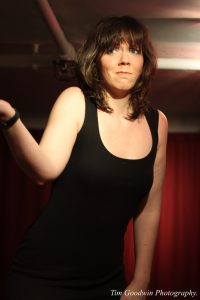 A one-person show is perhaps the best setup for a play centered on a 30-something-year-old divorced woman who lives in New York City and who's unsure of herself. In "A date for the evening", playwright and performer Celestial Zenith invites her audience to accompany her character — an anonymous "Girl" — on a date. The audience acts as both fly-on-the-wall and confidant while the Girl talks to her date, recalls conversations with her ex-husband during the disintegration of their marriage, and discloses superficial realizations about her behavior patterns.
The play opens with the Girl dancing awkwardly (choreographed by director Shannon Stowe) around half the stage — maybe she is trying to exercise at the last minute, stretch out her pants, or add volume to her hair — before the date begins. Clearly, she is trepidatious and reluctant. Once the date starts and for the remainder of the show, the Girl jumps repeatedly from present to past, describing and sometimes reenacting the emotional barbs that have formed her insecurity.
The time and space in which the Girl lives also help tell her story. She's on the cusp of Generations X and Y.  Despite her age, she is still a "girl" (she has no children, and she shows no sexual interest in the men she considers). Despite living in a city of 8.3 million people and texting and tweeting, she is lonely. She tries to improve her physical health by drinking coconut water and attempts to feel centered by practicing Bikram Yoga, but she doesn't seem to know how to truly take care of or connect with herself — let alone others.
Although the show has a running time of just 35 minutes and moves quickly, the transitions are clean: Zenith adjusts her diction and tone while Stowe shifts the actress's position on stage as well as her focal point so the audience can keep pace. Zenith's movement and cadence are jagged and frenetic (wise choices because this Girl is delicate but not graceful). The dance in the beginning is odd but makes sense when it repeats toward the end of the monologue (signifying continuation of the Girl's bad habits and anxiety). Perhaps showing how the Girl mustered the courage to leave her husband (instead of telling us that her father was absent) would have tightened the content. Regardless, the play satisfies: "A date for the evening" is smart contemporary theater.
"A date for the evening" is part of the FRIGID New York Festival, which continues through March 9.  For more information, click here.