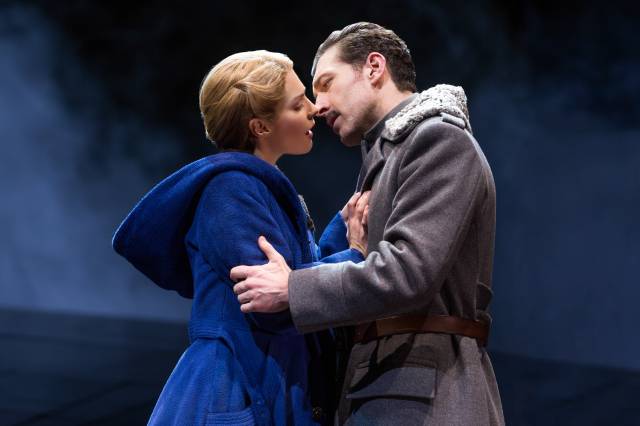 It makes sense that on many occasions during the length of Doctor Zhivago, the eponymous hero (played by Tam Mutu) is referred to as "Y.A.", short for Yurii Andreyevich, and also a perfect, if unintentional, embodiment of the show's adolescent intensity. Gone is the tastefully restrained treatment of the 1965 film version, which has been turned into an overwrought spectacle that fails to please the heart or the head. The film version had Omar Sharif play the conflicted poet torn between his love of country, wife and duty, and his love for Lara Antipova, played then by a never more sensual Julie Christie, and played on Broadway by Kelli Barrett, who may have the beauty but certainly lacks the fire to convince us she'd spark anyone's devotion. Much less so the love of three men: the aforementioned Zhivago, the despicable Viktor Komarovsky (Tom Hewitt) and the young Pasha Antipov (Paul Alexander Nolan), a meek idealist who becomes the feared Bolshevik commander Strelnikov.
In the film version, based on Boris Pasternak's bestseller, the characters have double duties; not only must they serve the plot, they also represent aspects of the rapidly changing Russia where the story is set. Zhivago's selfless wife Tonia (Lora Lee Gayer) embodies the generation of blind aristocrats that were forced into exile, or killed, during the revolution. Komarovsky is a symbol of the sly politicians who found a way to make themselves indispensable regardless of who they were serving, and Zhivago himself serves as an audience surrogate forced to open his eyes despite his more romantic wishes.
Michael Weller's book for the Broadway musical is fully aware of the richness of Pasternak's characters and ideas, but the adaptation doesn't trust that the audience will be able to see past the soap opera conventions of the story and chooses to go for over-explanation and over-exposition. The audience is not trusted to understand anything that's not sung, make that yelled, at them or highlighted through patronizing supertitles letting us know "two weeks have passed", or that we are actually inside "Strelnikov's Car" as opposed to what, the planet Mars? Most embarrassing of all are the giant images projected in the back meant to give us a insight into the characters' deepest thoughts. We see projections of orphaned children as the characters discuss death, noble nurses as we are about to see actual nurses onstage, and in a moment straight out of a hard rock music video, a moving projection of Lara herself, as Zhivago sings about his passion for her.
The show is both so overconfident and insecure that it doesn't satisfy itself with showing off lavish sets and costumes, it also must make them as loud as possible in case we haven't noticed them. Fire shots, explosions and marching abound, all of which contribute to make the show more erratic than operatic, as we are constantly being asked to shift gears along with the confused characters. "I AM YURII ANDREYEVICH ZHIVAGO! I WILL NOT LEAVE A LEGACY OF SHAME!" yells Mutu, perhaps trying to salvage his dignity or just throwing a tantrum.
What's sad is that the music by Lucy Simon is actually quite sweeping and confident, in fact she only needs to recur to Maurice Jarré's "Lara's Theme" from the film a single time. However the lyrics by Michael Korie and Amy Powers don't always serve their purpose, they are too generic to be memorable and too specific to the show to find a life outside of it. Des McAnuff's direction certainly doesn't help the proceedings, as it seems the only directions he gave were "bigger, louder, stronger".
It's common nowadays to sneer at anything that's remotely romantic that doesn't show intentions of being meta or cynical. In fact the year that Doctor Zhivago came out in movie theaters, there was another little movie about a singing nun that actually beat the doctor at the Academy Awards. Both films are commonly accused of being old fashioned and "saccharine", but there was something about them that certainly can't be replicated. Whether it was Julie Andrews singing atop an Alp, or a fur-clad Julie Christie leaving an ice palace riding a sleigh, these films were unafraid to embrace what they were. Doctor Zhivago on Broadway seems uncomfortable being there, it sings with heartfelt passion, and then shows you its new toy gun, so that you won't dare think he's that cheesy or not cool enough.