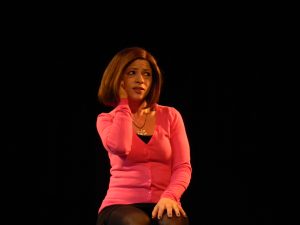 Throughout "Drama at the Point", written and performed by Karen Sklaire, the teacher/heroine of the one-woman show introduces each vignette or episode of her hilarious narrative with statements like "in 'Dangerous Minds' Michelle Pfeifer says..." or "in 'Stand and Deliver', James Olmos does..."  These little comments, all taken from films about teachers who educate children in spite of the rules of the system, highlight the hard reality of Ms. Sklaire's teaching experience in the New York City Department of Education.  Whereas the heroes and heroines of these banal films ultimately triumph or are even lauded by the system, the outcome of Ms. Sklaire's attempts to teach deprived, inner-city children ends in her termination, a fate shared by too many new and able teachers in NYC schools.
As if the originality and message of the play -- that the NYCDOE, like many urban public school systems, is in desperate crisis and that it is the children who pay the high price of this catastrophe -- weren't enough, "Drama at the Point" is side-splittingly funny and would in fact make a marvelous film itself. Few are the plays that can make an entire audience roar with laughter.  This is one of them.
Everything about this little gem of a play is pure gold.  Ms. Sklaire's writing and performance are irresistible, and Cheryl King's direction is on target, making Ms. Sklaire sparkle.  (Ms. King, by the way, owns and runs the wonderful Stage Left Studio Theatre, one of NYC's true entertainment treasures.  Her theatre has long been producing new, undiscovered talent of the very highest caliber.)  Lastly, Alex Chamj's sound and lighting design, always on point, brings a subtlety to the experience that makes him indispensable.  In short, this is a very special trio.
Anyone that has an interest in public education – teachers, parents, students, and the friends of teachers, parents, and students – should see this play.   And anyone that likes great theatre should, too.