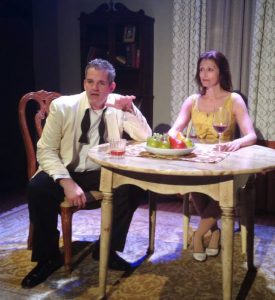 The Project Rushmore Theatre Company presents plays that "offer inspiration and insight into American culture", and their latest production, World of Sinatras by Sean O'Connor, certainly lives up to the company's goal. O'Connor's play, a slice of dysfunctional suburban middle-class America during the fifties and sixties, centers around the character of Sam Murdoch, telling the story of his childhood and adolescence against a backdrop of American politics and pop culture.   The play (directed by Sydnie Grosberg Ronga) explores the traditional themes of coming of age in the USA -- first love, drugs, search for identity, typical suburban angst stuff. In the case of Sam Murdoch, his experience is also shaped by an environment of substance-abuse and violence.
The story begins with Sammy's parents -- she an upper-class French woman, he an ambitious American psychiatrist -- meeting in France during World War II, and at once we get a rather mechanical glimpse of how Officer Murdoch's temper will destroy his family and ultimately himself. As little Sammy, an only child, grows up, he has to deal with his alcoholic father's temper as well as his prejudices and machismo ("you don't want to play the piano! The piano is for faggots! You're a born scientist!"). His mother, a frustrated artist and oppressed housewife, pulls him in a completely different direction ("You're a born artist! Your poems are magnificent! Be a painter!").  As Sammy grows older, he develops a close friendship with a drug dealer, Rooster (a weirdo who thinks he's the Messiah), and becomes a third generation substance abuser.
Although all of the characters are fairly rounded and well-drawn, the gestalt of the play is ultimately uninteresting. The central character, although beautifully performed by Jeff Rubino, is thoroughly insignificant and eclipsed by the inner lives of his parents. Dr. Murdoch, wonderfully portrayed by Dennis Ostermeier, has to be one of the most uninteresting alcoholics to ever grace an American stage.   He is seriously lacking in those unsavory charms that make Eugene O'Neill's professional boozers so endearing. As for the mother, played by the wonderful Danielle Delgado, she is the most believable of the characters and the most sympathetic personality in the play -- even more so than the father who's had much to overcome in life and is so representative of the Irish American experience in post war America.
World of Sinatras has a wonderful cast of professional players, but not even their excellent performances make this play a memorable experience. It's a play about a nobody who has nothing interesting to say.
World of Sinatras will be performed in rep with Exquisite Potential through August 3 at the Arclight Theatre.  For more information, check out Project Rushmore's website.