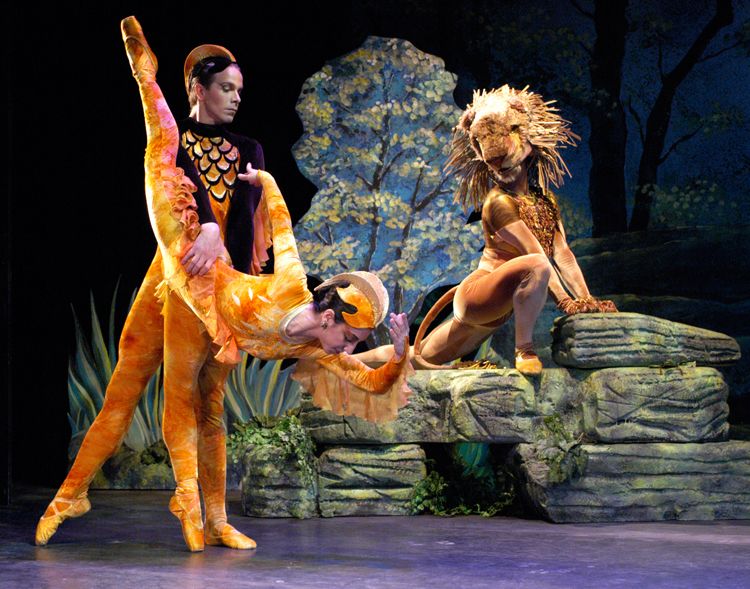 While much of New York Theatre Ballet's work is aimed at a young audience, their production of "Carnival of the Animals" and "Sleeping Beauty's Wedding" is designed for children aged 7 or younger -- the very youngest of theater-goers -- in every respect.  The story, the ballet's length -- in short, everything -- is designed to introduce and hook children into the world of classical dance.  And like all of their work, these ballets are absolutely enchanting.
Both are perfect vehicles for the initiate.  "Carnival of the Animals" tells the story of two children (played by children) who get lost in a forest and meet a series of animals who plan their demise.  As the beasts prepare to devour the children, Diana Queen of the Forest appears and convinces the animals to show them kindness, respect and courtesy.  In the end, the animals show the children the way out of the forest.  It's a tidy little tale in the vein of Aesop and the Brothers Grimm.  "Sleeping Beauty's Wedding", while not much of a story, is equally charming.  "The Sleeping Beauty" is considered the pinnacle of Russian Imperial ballet classicism and a standard for dance worldwide.  NYBT's production only recreates the ballet's final act with guests dancing in celebration of the wedding of Princess Aurora, exquisitely played by Rie Ogura, and her prince Desiré, played by Choong Hoon Lee.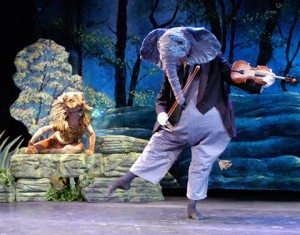 Although these dances have very little to offer the adult lover of ballet, it would be hard to find a parent who would complain of having to sit through an afternoon of an NYTB production.  Under the guidance of the brilliant Diana Byer, who usually gives the young audience and their parents a little lesson in theatre tech at some point in the program, NYTB continues to be the most important dance company aimed at young viewers.  That, and Byer's LIFT program, truly make NYTB a New York institution.