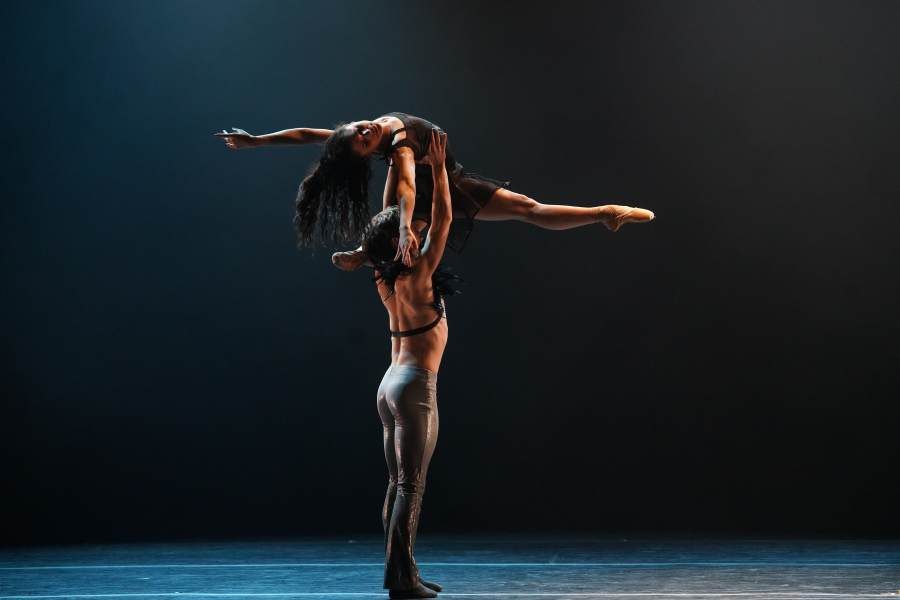 A lot of art was created during the long year and a half when theaters around the country were dark, but creating art for our current moment has perhaps been trickier. Answering the call for meaningful performance that draws on our recent collective experience is Complexions Contemporary Ballet. In Snatched Back from the Edges, virtuoso choreographer Dwight Rhoden channels the various emotions of that first year--fear, frustration, grief, loneliness--into a synergistic dance routine that not only recognizes our past trauma, but looks forward to a hopeful future. Watching it live at the Joyce Theater is at once invigorating, validating, and freeing.
His dancers, the supremely talented members of the Complexions Contemporary Ballet Company, execute Rhoden's vision seamlessly and with great beauty. Whether whirling, leaping, lifting, sliding, or doing handstand turns, they appear organic and effortless. Michael Korsch's low, theatrical lighting strengthens the illusion: gilding the dancers' muscular limbs with light but hiding the physical exertion the performance requires. Turning and twisting hypnotically, they're like figurines in a music box--except that this electrifying choreography is much more exciting.
To suspenseful music, a single dancer spins in a shaft of light. Eventually, the stage erupts with dancers, echoing alternating movements like a perfectly-timed water show. A later movement uses spoken word performance to convey the fear and depression of COVID-induced isolation, and in a thrilling piece of choreography, three dancers imitate moving clock hands, perhaps referencing the strange relationship to time that most of us experienced in quarantine.
But it's not all doom and gloom. In one movement set to a trickling piano, the dancers seem completely uninhibited, and watching them grants the viewer a kind of freedom. In the finale, a couple dances to "The Future" by Egbert Nathaniel Dawkins III. Graceful and rhapsodic as young lovers, the dancers' quietly celebratory movements imitate the lyrics: "The future belongs to me, and it's going to be a beautiful thing to see."
In a talkback after the performance, Rhoden explained that Snatched Back from the Edges began as a piece of digital performance during the theatre shutdown. In it, he tried to focus not on the moment's outward issues, but the inner feelings they occasioned; not the big events but the day-to-day repercussions. He hopes viewers recognize themselves in it, so I imagine he'd be pleased to know that I did. I recognized my initial fear and loneliness in the spinning dancers imprisoned in spotlights; but I recognized too the hope and happiness that shone brighter for coming at the end of a long, dark tunnel. Although it touches on the pain and heartache of the past year and a half, Snatched Back from the Edges is ultimately about picking up the pieces of our past lives and moving forward with graceful hope and uninhibited joy.
Following Snatched Back from the Edges is the return of Love Rocks: a 40-minute performance to Lenny Kravitz songs originally presented in 2020. Using catchy songs like "Fly Away" and "Are You Gonna Go My Way," it's the rocking, high-energy dance party you always wanted to get invited to. In fact, parts of it feel like an infinitely cooler version of the finale of a teen musical movie. Exhilarating, sexy, and jaw-dropping, it's an absolute joy to watch, made more joyful by unified individuality: these dancers represent a range of ethnicities and body types (though as you'd expect, they're all in incredible shape), and as they move together, their individuality doesn't fall away, but gets subsumed into something greater. As Rhoden explained, Complexions embraces "the beauty of differences" but "the message is unity."