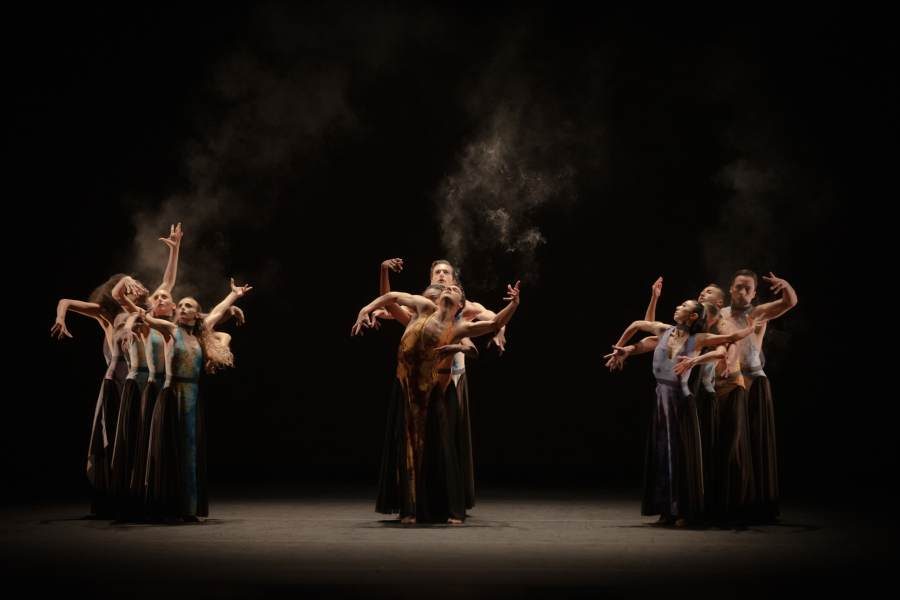 Martha Graham is one of the most foundational figures in modern dance, and at the Joyce Theater, from now until April 30th, the Martha Graham Dance Company is preserving and furthering her legacy by demonstrating just how powerful, thrilling, and transcendent the art form can be when helmed by visionary choreographers and performed by inspired dancers. Four programs showcase historic Graham dance numbers alongside new and revitalized works that build on her vision and style.
I saw Program B, which consisted of Embattled Garden (Graham's wildly sensual take on the Adam and Eve story), Cortege 2023 (a stunning World Premiere by choreographers Baye and Asa based on Graham's earlier work Cortege of Eagles), and Canticle for Innocent Comedians (a multi-movement piece choreographed by Sonya Tayeh and a host of others, inspired by Graham's lost work of the same name). All were startling and breathtaking, but it was the last that struck real awe and wonder into my heart.
Graham described Canticle for Innocent Comedians as "a dance of joy, in praise of the world as it turns." The piece is a series of dances for solo and ensemble performers, each dedicated to a different element: sun, earth, wind, water, fire, moon, and stars, with a final number dedicated to death and rebirth. The work was performed in 1952, but aside from the Moon dance, all footage of it was lost. Under the guidance of company artistic director Janet Eilber, a group of choreographers has reenvisioned Graham's lost work as a ritual of movement, a prayer in motion, a paean to the natural world.
The opening and closing numbers, choreographed by Tayeh and danced by the ensemble, speak to the interconnectedness of the natural world, the cycle of death and rebirth, and the beauty of togetherness. Dressed in long, colorful robes, the dancers appear in three pillars as the work opens, and smoke rises from each, as though we've entered a temple of the natural world, where to be in motion is to express adoration, and dance is the highest form of worship.
This is especially striking in the Wind movement, choreographed by Sir Robert Cohan and danced in silence by a solo performer. What does dance mean without music, the piece seems to ask, and what can you hear if you listen to the silence? Much, it turns out: in the absence of music, the dancer's movements become their own song.
In movements like Moon and Death/Rebirth, the dancers seem rapt by a heavenly vision, and all their movement seems to be a reaching for something beyond our sights, beyond their grasp. In these moments, the piece takes on a luminous, unearthly quality, and I held my breath in wonder. At other times, it assumes a tone of almost frenzied exultation, as in the Fire movement: a physically powerful group number, reminiscent of a Maori war dance. Elsewhere, dancers move like interweaving melodies, personifying the shifting earth as they praise it; or, in the Sun dance, with an exultant ease that is both grand and graceful. It is, as Graham noted, a dance of joy: full-bodied and almost overpowering, impossible to be restrained, that manifests as natural movement.