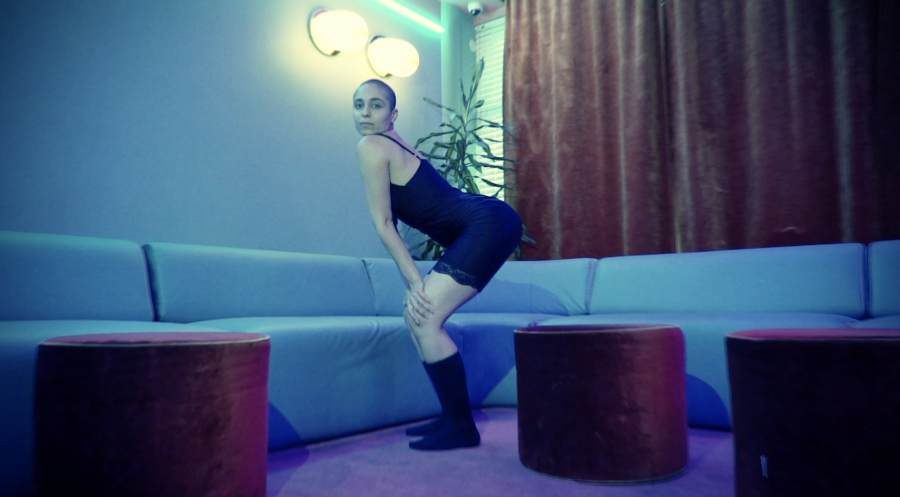 Sensucht: German for yearning, but not just any yearning. To experience sensucht is to yearn without knowing what you yearn for. A sort of homesickness for a home you have never found. C. S. Lewis called it "the secret we cannot hide and cannot tell."
The short dance film Homesick, presented by Source Material, pokes at the heart of sensucht. Directed by Samantha Shay, the 15-minute film stars Danielle Agami, whose solo performance Framed inspired the piece. Choreographed by Agami and filmed by Victoria Sendra, Homesick also features the music of Danish-Icelandic artist Sara Flindt (ZAAR).
In Homesick, a female dancer responds to the physicality of her environment, her partner, and herself. Whether in a tight, populated flower shop, in a bar or apartment, or on a long road in the setting sun, she seems to be searching for something--connection, self-love, a place or person to call home.
Agami's performance is bracingly physical, almost uncomfortably intimate. She shifts from bestial to graceful, frenzied to poised, pulling herself on all fours or twining the air with poetic fingers. Agami herself, in the Q&A following the livestream of the film, described her performance as "bold," "open," "sexy," and "fragile." And I have to agree. In the film, she is at once a force to be reckoned with and a figure to be protected, savage as a storm, delicate as a bud.
For Sara Flindt, who contributed two songs to the film, Danielle's performance embodies the idea of yearning for connection. Flindt also contributed a few lines of text, which came out of a conversation the production team had, and appear in the film as a voiceover. For Flindt, homesickness is nothing new. She experienced it as a child at sleepovers. But now as an adult, she can't ascribe the feeling to just missing her parents and toys. Working on Homesick caused her to reevaluate what home means to her, and in the film, she gives one possibility: love.
Homesick does include a dance duet between a male and female, suggesting the power and pain of amorous love, but the story doesn't end there. Agami dances by herself in a bar, on a road, and in an LA city square, interacting and non-interacting with the objects and figures around her in a way that almost echoes those objects, perhaps manifesting her search for connection.
Agami said she didn't want the duet to end the story, because it's not honest. "The reality is you need to know how to dance and you need to know how to dance alone in order to survive in this world."
For director Samantha Shay, Homesick is "a portrait in time of all of us searching for something." That search is evident in the film's poignancy, its physicality, and mood. Repetition is important: repeating actions, echoes of things that have already happened or will yet happen--all pointing to and embracing that sense of sensucht, yearning for something of which dance is only a communicator.