Dance becomes the vehicle for this lyrically powerful exploration of the Asian American experience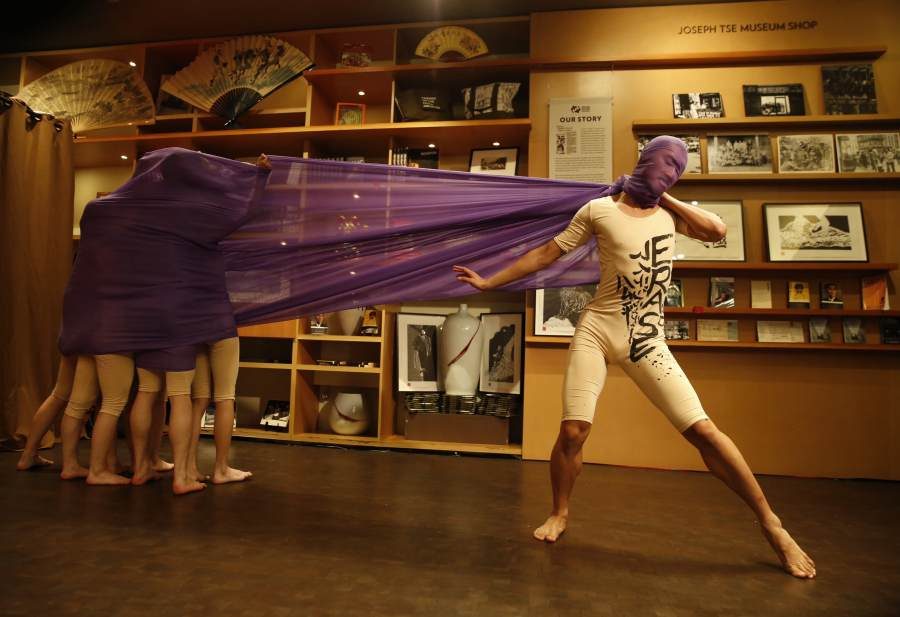 Dance can be a powerful vehicle for storytelling, for expressing emotion, and for conveying truths that are sometimes difficult to articulate in words. If you need proof, go see J. Chen Project's AAPI Heroes: Myths and Legends, currently playing at The Museum of Chinese in America (MOCA). You do have a limited window, as there are only four performances scheduled, but you can always catch J. Chen Project's next adventure, which will likely be just as remarkable.
The goal of AAPI Heroes, as Artistic Director and Choreographer Jessica Chen notes in the program, is to elevate the Asian American Pacific Islander (AAPI) "identities, stories, and experiences," in an attempt to reclaim and demarginalize AAPI voices. Drawing on Asian American culture, heritage, and traditions, it blends dance, song, and one monologue into a rich, nuanced tapestry that highlights the AAPI experience in America.
The first piece, "Rising Dragon," is a group dance number inspired by martial arts legend Bruce Lee; the second, "NüWa," a retelling in dance of the myth of the Chinese mother goddess who created the first human being after seeing her own reflection in the water. A duet between two women, it's not only a resonant retelling of a lovely myth, but an homage to the creative power of AAPI women (and perhaps women of every race). A ball of dough, initially draped over the shoulders of the first woman, becomes the primeval means of creation: a tribute to the simple tools women use to transmit stories, values, and traditions.
In addition to dance numbers, the show features one musical performance--"Splendor Dysphoria" performed on electric guitar by SuperKnova--and one monologue, performed by Joy Chen as Anna May Wong: the first Chinese American Hollywood star, who was passed over for the film adaptation of The Good Earth in favor of actors in yellow face. While these may not have the same raw emotional power as the dance numbers, they succeed in adding variety to the program and providing further insight into the Asian American experience, and both are thoroughly enjoyable.
But it's in the final number that Chen's choreography, married to Lui Konno's inspired costume design, truly shines. A piece commissioned by MOCA as a response to the recent escalation in violence toward Asian Americans, "You Are Safe" expresses through poignant, lyrical movement the struggle and heartache that comes from being dismissed, stereotyped, and othered. A sheer purple sheet--alternately tied around dancers' bodies, wrapped around their heads, and held up between them and the audience, is used to evoke racial targeting, cultural erasure, and ostracization. Like the dough, and like this thoughtful show itself, it's a powerful symbol rendered even more effective by J. Chen Project's more-than-capable dancers.
Not being AAPI, never having been to the MOCA, and knowing that a quirky dance-heavy piece can easily be a total bore (alas, I still remember the late Little Prince only too well), I went in uncertain what to expect, and not clinging to high expectations. I left glad I'd taken a chance on this show, which turned out to be wonderful.