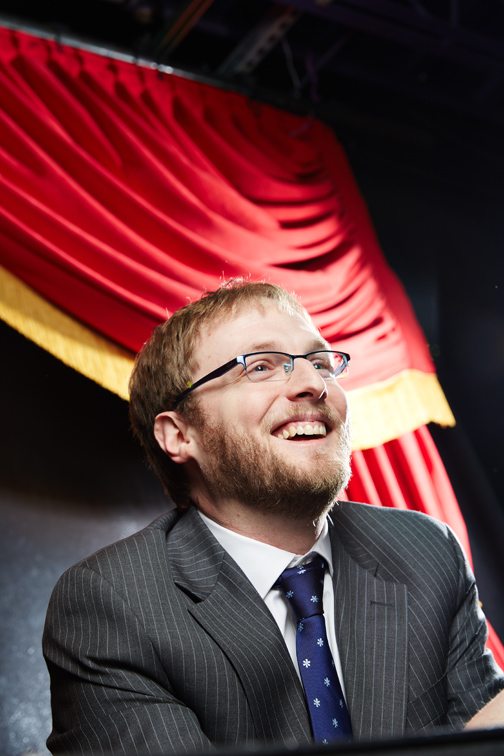 "Eating My Garbage", an hour-long monologue written and performed by David Mogolov and directed by Steve Kleinedler, has all the elements that make off-Broadway theater worth going to: great material, great direction and great performance.  David Mogolov has created a character that has his finger on the political pulse America, and his analysis, as often happens with great comedians, is precise and accurate and hilarious.
Mogolov's well-crafted, insightful and very funny monologue begins with general observations about economics, politics and politicians. ("Things are getting better in the USA," he says. "At least this year, North America's most scandalous politician was the mayor of Toronto.")  Then he shifts the focus to the nature and role of corporations in American life by holding up one example that has affected him personally.  Like most people living in New York, Mogolov's character works in an office and goes to the local food court for lunch where, after a few visits the selection is bound to become monotonous.  Mogolov uses this common situation to launch into a deconstruction of the phenomenon of being the face of a corporation, in particular, Jared ("famous for eating sandwiches") and the Subway franchise.   Mogolov's take on the relationship is loaded with political implications and comedy.
But Mogolov's comedy isn't purely political.  His character has a life of his own and much of the piece relates to his experience as a displaced Midwesterner trying to survive in New York City while also trying to bring up two children and be a good husband.  And, of course, like most New Yorkers, Mogolov has his unique tales to tell about his housing situation.  Again: Hilarious.
"Eating My Garbage" is worth seeing.  In fact, it's more.  It should be seen.  Although Mogolov's timing could use a little fine tuning (the material is really fun), his delivery and comic energy are in great form if a little nervous.  He has a fine sense of humor that relies on subtlety and the intelligence of the audience.  In other words, this is comedy of the best kind.
"Eating My Garbage" is a part of the FRIGID New York Festival, which continues through March 9.  For more information, click here.