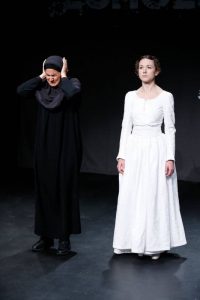 Two young women from Ipswitch, England embark on separate yet similar adventures. They journey halfway around the world to marry dedicated soldiers engaged in righteous conflicts, and in so doing they assume new and dramatically different lives. But these two women, so alike in character and in action, are separated in time by more than one hundred and fifty years. Tillie, a prim and well-educated young woman living in Victorian England, embarks on a long trek to India to marry a British lieutenant. She agrees to move with him to Afghanistan during the time of the "Great Game".  In 2015, Samira, a young Muslim woman living in the same town, secretly leaves her family to travel to the same part of the world and wed a fighter for the Islamic caliphate. Both Samira and Tillie soon find themselves trapped in horrors they could scarcely have imagined, completely isolated and with no means of escape. If only they could turn to each other for help; after all, they are standing within inches of each other.
This is the story of Echoes, a fascinating new play by Henry Naylor. Tillie and Samira, both of them intelligent and passionately curious about the world, tell their stories in alternating monologues. Tillie is dressed in Victorian white and Samira wears a black dress and a hajib. They wryly describe the same drab hometown (albeit in different centuries) and the circumstances that drove them to leave England. They provide fascinating details regarding their new lives on the other side of the earth where they encounter oddly similar husbands. They describe the details of their ghastly new sex lives and their roles as subservient females, valued far below their worth back home. Most vividly, they each describe horrific violence, something neither of them really knew before.
The actresses are utterly riveting in their portrayals. Tillie, played by Felicity Houlbrooke, is a bright, Victorian girl who could have stepped out of the pages of Middlemarch. A spinster in her time, to a modern audience she appears heartbreakingly young. She is also strong-willed and quite funny. Twin sprigs of hair bob about on either side of her face as she energetically recounts her adventures, making observances that are often witty and sometimes alarming.
Samira, played by Filipa Braganca, is quite introverted at first, yet she also offers disarmingly sly and witty observances about the world. She hears and thinks more than she lets on to those around her. She describes the election of Nigel Firage and her subsequent turn towards secrecy and daring; she becomes more and more uneasy as a Muslim woman living in England. Once she arrives in her adopted home overseas and finds herself trapped, she makes a bold decision and takes the audience along with her. It is a terrifying journey.
Both Houlbrooke and Braganca have strong voices, like two different instruments alternating in a hauntingly similar melody, and they have perfectly tailored their performances to the audience's proximity to them. In addition both have a masterful way of transforming into the other characters they encounter. These changes in voice and body are subtle yet astonishingly perfect.
Echoes was written by Henry Naylor, a popular British comedian who has taken a recent career turn as a playwright. This is obviously no comedy, but Naylor has used his comic gifts to create two very funny and observant characters. There is a surprising amount of laughs in the play (a humorous jab at Ted Cruz seems to have been added for the American run). Yet the story it tells is suspenseful, sad and very thought-provoking.
Echoes has had a successful run in the UK, winning numerous awards at the Edinburgh and Adelaide fringe festivals before enjoying a successful run in the West End. It is now playing New York City, with the original British cast as part of "Brits Off Broadway 2016" at the 59E59 Theaters. It is presented in minimalist style; there are just two performers, a bench and a stool. With writing so fine and acting so powerful, nothing else is needed.