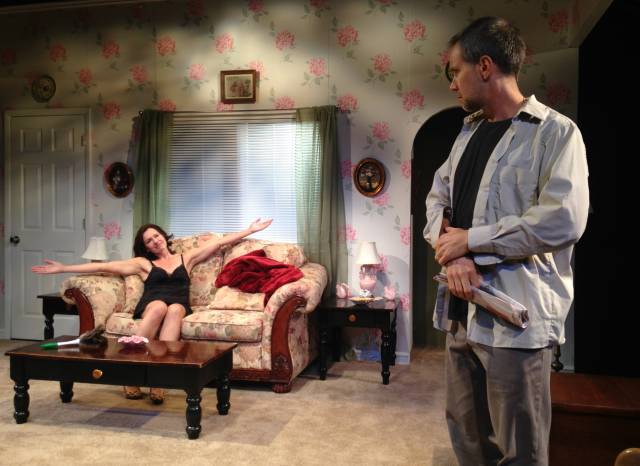 When the lights rise on William Goulet's new play Filler, the off-kilter relationship between its central characters, Marian (Gabriele Schafer) and Adler (Ross Pivec), is firmly established: She is trying to walk him through a sexual role-play session, but he shows more interest in a seemingly inconsequential article about the accidental drowning of six chickens. As they debate the validity of the article, we learn that Marian and Adler have been successfully married for over twelve years—only now has she decided that she needs more from the marriage, and has let Adler "get by with not facing up to [his] duty".
They are suddenly visited by a stranger named Kyle who offers to fix the columns that hold up their porch roof. Marian and Adler accept his help, but when he arrives to help the next day, he brings a mysterious man named Benny with him to help out with the project. Who exactly Benny is, and what he's doing at Marian and Adler's house, provides the central mystery of Mr. Goulet's play. The presence of these two men will also force Marian and Adler to reconsider their marriage, as well as their roles within it.
In addition to writing the play, Goulet also directs it. He efficiently keeps the action moving at a near-farcical pace that never flags or falters. He has also assembled a fine group of actors for the piece. Gabriele Schafer nimbly balances Marian's alternatively maternal and coquettish nature. Ross Pivec pulls off Adler's wide-eyed innocence without delving into caricature. Kyle Minshew and Adam Hyland, as Kyle and Benny respectively, are by turns pleasantly amiable and deeply unsettling over the course of the play. The production is beautifully designed as well—Christopher and Justin Swader have designed the tastefully appointed living room set, which is beautifully lit by Mary Ellen Stebbins.
From the very beginning, the play strikes an odd tone between realism and absurdist, and never quite reconciles the two styles. As a result, it's a bit difficult to get into the world of the play. Nonetheless, there is enough skill in Goulet's writing to keep it fascinating and compelling. He slyly keeps ahead of his audience, and has more than enough twists and turns to keep the plot exciting and interesting. He also trusts his audience—much of the play is up to interpretation, and will definitely leave the audience with plenty to talk about.
---
Filler, written and directed by William Goulet, stars Gabriele Schafer, Ross Pivec, Kyle Minshew, Adam Hyland, and Philip de la Cal. The production features sets by Christopher and Justin Swader, lighting by Mary Ellen Stebbins, and stage management by Kristine Schlachter. Performances continue through November 30 at 64E4, and tickets can be purchased at https://fillertheplay.com/