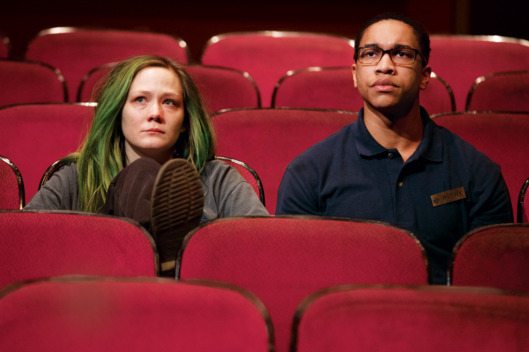 Three insignificant souls try to make the most of their humdrum lives in the 2014 Pulitzer Prize winning drama The Flick by Annie Baker, hailed by The New York Times as "one of the freshest and most talented dramatists to emerge Off Broadway in the past decade." Sam (Matthew Maher), Avery (Aaron Clifton Moten) and Rose (Louisa Krause) spend most of their days working at The Flick, a rundown movie house long past its heyday, one of the last remaining that screens in a single theater on a 35mm projector.
The play takes place entirely inside the theater, and most of the action involves Sam and Avery sweeping the aisles after each movie screening. Dialogue driven, the interactions are at first mundane and seem to go nowhere. The two men have little in common. Thirty-something Sam has been at the job for awhile. Constantly passed over for promotion, he's got nothing going for him. Avery is a 20-year-old college student who's just started working at the theater. To Sam's chagrin, the impulsive Rose, who works as the projectionist, instantly becomes attracted to the younger man, or more likely attracted to the possibility of some drama and excitement in her life.
The Flick is consistently funny, the delivery of lines so delightfully playful at times in spite of the characters being a woeful bunch. Directed by Sam Gold, Mr. Moten, Mr. Maher and Ms. Krause bounce off of each other with wonderful results. A scene in which Rose shakes it in a fit of awkward sexual heat to Jay-Z, attempting to entice a dumbfounded Avery, is a treat to behold. The play does have one significant flaw: clocking in at a whopping three hours, it could easily stand to lose one.
Amid parlor games, general banter about movies and workaday matters, personal details are shared and tentative friendships are formed. Ms. Baker's script is surprising in that as simple and as trivial as things first appear, an interesting story unravels slowly, revealing great insight into these three characters and their different worlds. Peeling like layers of an onion, its revelations sit with you long after it's over.