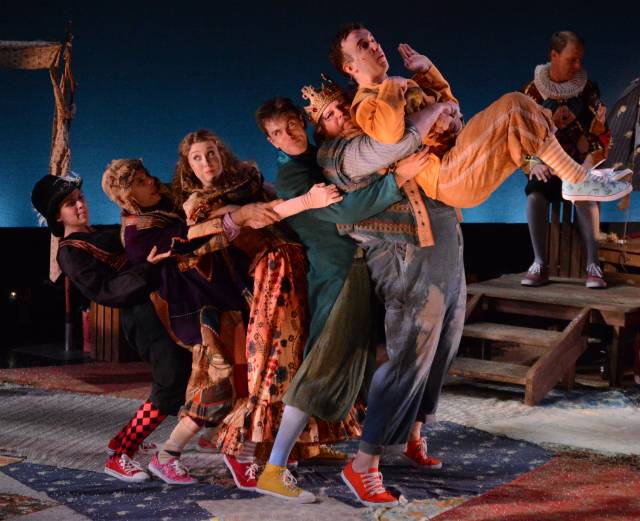 With the promise guaranteed in calling itself "a Shakespearean Musical Comedy", Foolerie sets its bar very high long before the curtain ever rises, and while its ambition is certainly admirable, its overt confidence also brings its share of dilemmas. Conceived by Santino DeAngelo, who wrote the book, music and lyrics, the show opens in the courtyard of a country house owned by the Earl of Pearl (voiced by the hilarious Gilbert Gottfried) where a group of fools led by Clowne (Ian Knauer) have gathered to present the lord with an unforgettable performance. The Clowne explains that on this occasion they will confirm that he is indeed the greatest fool of all, and he accepts any challengers who think the contrary. A young man referred to as the Knave (Ryan Breslin) takes on the challenge, and they decide to put on a performance inspired by none other than Shakespeare, the inventor of theatrical foolery.
The troupe of fools then performs a pastiche formed by Shakespearean characters, plot twists and parodic elements, all of this sprinkled with DeAngelo's original compositions. From the start it's obvious that Mr. DeAngelo knows his Shakespeare very well, but he certainly lacks the authority to mold the Bard to his desire, and bits from Twelfth Night, The Tempest and Romeo and Juliet end up overtaking his flimsy book. The ideas at the center of DeAngelo's book are rather complex and fascinating since the show seems to be intent on setting up a duel between comedy and drama, to figure out once and for all which one is harder to do. However the execution of said ideas is lacking, because quite simply the playwright seems to believe they need to be digested before being presented to the audience.
At one point one of the characters gives a speech about how art shouldn't pander to its audience, and for all the self awareness this moment should present, sadly it's being used as a condemnation of other works (on many occasions "Broadway" is used as a barometer of poor taste) as opposed to being self-criticism. So as the show harshly condemns pandering, it panders away, as it borrows melodies from shows by Sondheim, Schwartz and Kander & Ebb (the show in fact feels like Shakespeare meets Pippin, meets Into the Woods with some of Sally Bowles' vulgarity thrown in), artists whose works have very often dissected the nature of art, but who have always delivered their theories artfully.