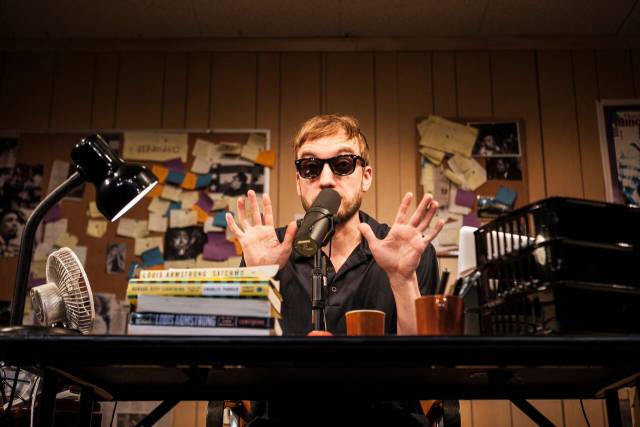 An exuberant play written and performed by Frank Boyd, The Holler Sessions, part of Performance Space 122's Coil festival, brings jazz and Village charm to the forefront.
From his cramped studio in Kansas City, the wiry, frenetic Boyd shares a loving tribute to jazz artists, remembering Charlie "Bird" Parker, Miles Davis, and Duke Ellington. After introducing each song, he extends his arms and takes in the moment. He jumps around the studio, flexing his muscles, giving the air a good punch.
Though the words fly fast and furious, The Holler Sessions is not really a rant. Boyd (who has worked with Elevator Repair Service and the TEAM) maps out a reverent journey coordinating his extraordinary love for music with the tracks of the artists that make it. Post-its cover the back wall, with black and white photos of famous jazz artists. Boyd puts himself firmly in the center. Though he never really feels their wrath or their pain, he does channel their virtuosity, and the need to have jazz on their journey. Some of the artists never make it out of their 20s; some make it all the way to 65. Their words are as remembered as their riffs.
With call-ins directly from the audience, Boyd takes in each new thought. He lets the words, the trumpets, the cello, and the drums spin through him, never losing a sense of the listening audience. Like Eric Bogosian or Marc Maron, he is a disc jockey with flair. For Boyd, feeling your mortality is as significant as embracing your presence. Boyd allows a few moments of Dead Air, not so much as a DJ's nightmare, but as a steadying force. Is the blare from the trumpet too much for him? Is the soundscape too much to bear? On this fine journey - the Dead Air and the DJ, the sound and the silence – is not so much a dread, but a welcoming.
With clever input from consulting directors Rachel Chavkin (Natasha, Pierre & the Great Comet of 1812, The Royale) and Josh Aaseng (Literary Manager for Seattle's Book-It Repertory), Boyd's performance is delightfully punctuated. Live musicians at the end of the play add to the suave show with plenty of glory. Sound designer Matt Hubbs keeps the flow even, without too many fancy effects. Obie Award-winning lighting designer Eric Southern produces some fantastic shadows on the back wall after Boyd remembers Charlie "Bird" Parker, and others. He knows when to take out all the lights - and then turn them up, burning a bit brighter.