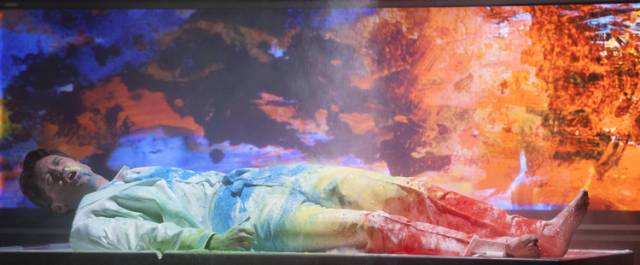 American Lyric Theater presented daring, new work by composers and librettists on Sunday, February 7 at National Sawdust in Williamsburg.
Artistic Director Lawrence Edelson has done something visionary with ALT alumni teams, putting together a program featuring arias, scenes, duets, and quartets. More a collaborative stage than a battle-ground of competing new work, the program was lively and engaging.
The evening began with The Poe Project, which consisted of two one-act operas: Buried Alive, by composer Jeff Myers and librettist Quincy Long; and Embedded, by composer Patrick Soluri and librettist Deborah Brevoort. It was an energetic start to the program. The space at National Sawdust left plenty of room for experimentation and surprise, with singers even appearing from the second floor rafters.
Missy Mazzoli and Royce Vavrek's passionate Breaking the Waves, based on Lars Von Trier's film, was commissioned by Opera Philadelphia and Beth Morrison Projects and will have its world premiere at Opera Philadelphia in September, 2016. The lyrics in Breaking the Waves flow effortlessly, creating a precise sense of character; Vavrek paints a vivid portrait of each of the characters. Mazzoli's composition is intricate, with room for interpretation. Eve Gigliotti's aria, "Golden Heart," was welcoming, bringing out texture and drama to the illustrative lyrics. In two arias "Map of Jan's Body," sung by Sarah Joy Miller, and  "A Lover's Grave," sung by Michael Weyandt, the singers gave different angles to the same story.
In a refreshing shift of the afternoon, composer Wlad Marhulets and librettist Stephanie Fleishmann combined drama with klezmer music in The Property. The only period piece in the show, The Property, which premiere at the Lyric Opera of Chicago in 2015, takes place in Warsaw. The opera, based on the graphic novel by Rutu Modan, is a bouncy and inspired tour de force, leaning into the downbeats and knowing when to hit the accents.
The last piece of the evening, Daughters of Bloody Duke, added a bit of gory humor. With screams coming from several sides of the offstage space, and the lead performer contemplating a knife, this work by composer Jake Runestad and librettist David Johnston rounded out a fine program. The cohesive production, with music direction from Gloria Kim, was lightly directed, with singers still using music stands, minimal prop pieces, and only a bit of staging - but with four performers on the stage, the final composition felt extraordinarily complete.
For more information about American Lyric Theater, visit www.altnyc.org.