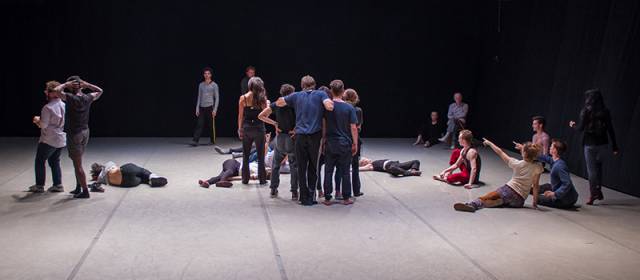 Twenty dancers entered and exited a freeform cluster in the main studio. Anyone could jump in. Anyone could exit.
With shoes left in the hallway, dancers encountered the ground – a centering force from which to draw, as they improvised in groups of two or three and found slow-motion choreographic patterns. Shapes and forms developed and transformed. New worlds were entered through the dance floor. The sculptural potential of the moment was something to consider. Without speaking, they found common vocabulary over time.
Exploring social choreography involves breath, impulse, and action. With an electronic score by Volkmar Klien, Excavation Site: Martha Graham U.S.A. involved sounds of the earth. The soundscape was never too pulsating or too loud. It allowed plenty of freedom, while choreography by Michael Kliën left plenty of room for exploration. Audience members, sitting in a larger circle around the dancers, were able to take notes, take photos, or just sit. Time was expansive. Followers of Graham could remain or leave at any point.
Meanwhile, in another room, excavating Martha Graham's work took a more scholarly approach. Participants asked themselves: What is your relationship to Graham? How did it start? How does it continue? From the numerous books on the coffee table, a long career was honored. One person - speaking about her own, personal experiences - noted that Martha Graham used to bring in fabric, allowing the dancers to experiment with rolling with it or flowing with it in large, sweeping gestures.
A visit to the past might inspire you to blaze into the future. Dramaturge Steve Valk has created space for dance and conversation. Sauntering from room to room made this "open house" a thing of a joy. With large placards serving as a guide to how to intersect with the work, the Martha Graham studios were full of potential. Echoing gestures from earlier work was fortifying. Dancers and aficionados of Graham's work could stroll or chat. With time for tea, and time for conversation, social choreography took many forms. Analyzing black and white films from earlier years could provide a profound way of digging through the past. Graham's work, since 1926, has led scholars from the Great Pyramids in Egypt to the Paris Opera House to the Acropolis in Athens.
A more expansive world continues through dance. Coil 2016 allows the performance to evolve. Though I wished for stronger, more consistent visuals (illustrative in Graham's work) or choreographed segments from some of her famous pieces, I appreciated the intention of the multi-generational participants. Martha Graham's principles are here to stay. To test them and discover the work is what it's all about.
Excavation Site: Martha Graham U.S.A. was co-presented by the New Museum and the Martha Graham Dance Company. It was performed at the Martha Graham Studios, 55 Bethune Street, 11th floor in New York City. Coil is Performance Space 122's annual festival, and it ran from January 5 through January 17.