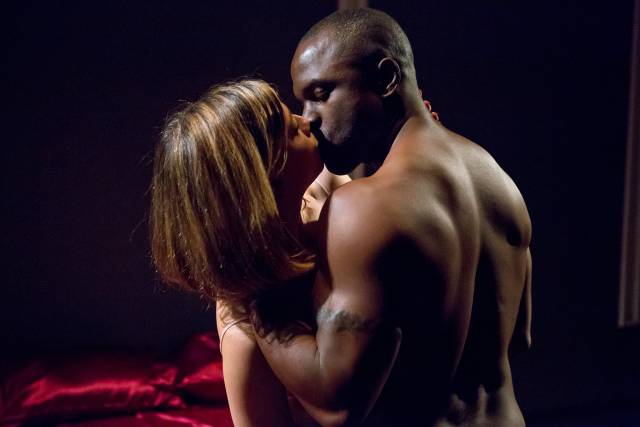 Those familiar with the Thomas Bradshaw's writing have come to expect the controversial. His plays – which often deal with the graphic reality of subjects like murder, pedophilia, incest and rape onstage – are not for the easily triggered. But Fulfillment – now at The Flea – is the playwright's latest and his tamest yet.
There is still plenty to perturb the average theatergoer. There is violence, nudity and very convincing simulated sex. But it is all comparatively toned down compared to Bradshaw's prior work.
This is not necessarily a bad thing. The playwright has had a penchant for the satirical, and that route yielded more extreme words and actions; but satire can also create some flat characters. To satirize race, for example, can be to make the color of a character's skin more of a defining characteristic than a single part of the human equation. In Fulfillment, characters are more fully formed in part because they are not so beholden to their demographic makeup.
The main character here is Michael (Gbenga Akinnagbe), a lawyer who has just purchased an apartment for $1.5 million in SoHo. Michael has a drinking problem and some aggressive sexual tendencies. He also happens to be an upper class black man – the demographic focus of many of Bradshaw's plays. Michael's race comes up in flashes, but it isn't the single more important thing about the man.
It may, however, inform the way his rich white counterparts act towards him. At one point, Sarah (Susannah Flood) – a colleague with whom Michael develops a romance – suggests he hasn't been promoted because he's black. It seems possible, but his higher ups tell him it's due to his alcoholism. Sober up, he's told, and he can make partner by the end of the year.
It's not the only time race is discussed, but whenever it is, there is the possibility that it's not the motivating factor behind the white actions in Michael's life. It is presented as unusual that Michael has not achieved the professional success of others around him – but he is an alcoholic.
Bradshaw has never placed judgment on the characters he creates. Nightmarish individuals are offered unexplained to audiences, presented at face value (even – especially – when the face is monstrous). The undeniable villains of his past plays don't populate Fulfillment; here, the playwright develops his matter-of-fact relationship with the audience, now allowing them the opportunity to question and interpret the motivations behind relatively ordinary character actions. And if it works out right, audiences might leave The Flea questioning their assumptions.