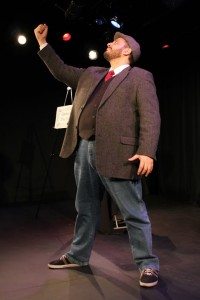 "How did he do that?"
According to magician/storyteller Nelson Lugo, this is not the important question. The important question is "Why?" And so, in his autobiographical one-man show Gathering the Magic, Lugo tells his audience why, for him, magic is so meaningful that he spent fifteen years perfecting a rope trick that lasts all of three-minutes.
One either likes magic or one doesn't; there are many people who simply don't see the appeal of this odd performing art. The non-fan, upon coming across a magician in the middle of some routine or another, mutters that very question: "Why?" Lugo, in speaking of his life experiences, including the first time he saw magic performed by Harry Blackstone Jr., his love of Batman and some supposedly "real" magic performed by his Santeria grandmother, goes to the heart of why some of us find magic so irresistible. For this reason, Gathering the Magic may just be the perfect show to entertain conjuring fans as well as those who don't get it.
Lugo is a charming performer with a manner that is modest, even self-deprecating at times. There is none of the uber-seriousness relayed by Copperfield or Blaine when they are in their more pretentious zones. Lugo, it would seem, never wants his audience to feel stupid for being fooled. Unlike many magicians he does not pick people out of the audience simply to make fun of them. One has to volunteer to come up to assist, and he treats his volunteers with courtesy. And although New York theatres are presently quite full of autobiographical one-person shows that are often quite tiresome, Gathering the Magic is genuinely affecting. The magic is well done, and each trick (Lugo, unlike many magicians, actually likes that word) relates to the story he is telling, whether it is a feat of mentalism done with comic books from his prized collection or a card routine done with Magic: The Gathering cards instead of traditional playing cards (Lugo, again bucking the trend, openly disdains traditional card magic). The show provides entertaining insights into human relationships with wit and humor and with none of the lame comedy that magician/philosopher Eugene Burger blames for nearly destroying conjuring as a serious art form. For stage magic this is a step forward.
As a performer Lugo is so laid-back, so not desperate to impress that sometimes his magic appears less impressive than it truly is. I have seen one of Lugo's tricks draw gasps when it was performed by another New York magician.  He performed it no more skillfully than Lugo does, but his attitude made it more of a miracle.
Aside from an unfortunate and unnecessary preamble by a singer/performance artist, the show has no real weak spots. Nelson Lugo's stories are captivating, and he has excised so much of what some people hate about magic that I strongly urge non-fans to see this unique performance. They will be pleasantly surprised. If you are an aficionado of magic, you probably already have tickets.