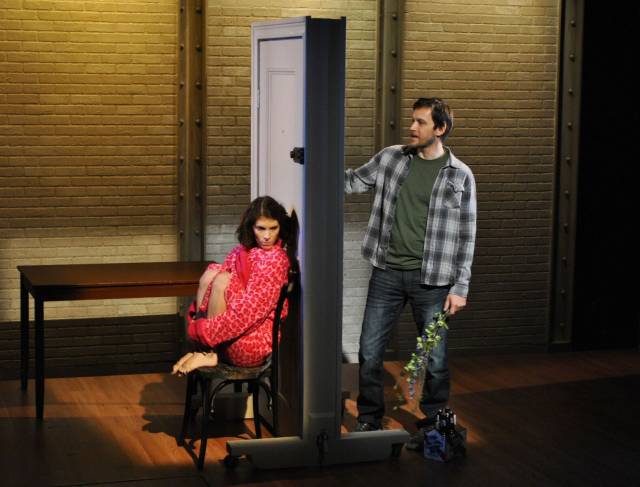 Oxygen and Hydrogen, two elements that need to come together so life can flow like water. For the characters Deborah and Jake in Ground UP Productions' H2O by Jane Martin, such a bond is not so simple.
Jake and Deborah are actors. He is an established film star, wealthy and full of himself. A man who can get anything and anyone whenever he wants, he has decided to make his acting debut in the theater world with Hamlet. Deborah's has been trying to make her breakthrough on stage for years while living on a few dollars per month. She performs on Off Off Off Broadway, at prisons and in living rooms, but doesn't give up because she believes in this path as it was told her by the Lord Jesus Christ.
Deborah and Jake meet the first time when she auditions for the role of Ophelia. She finds a man who is a mess and feels a need to rescue him through prayer. At first, Jake refuses vehemently to accept her help, unable to deal with the loving care of a believing woman. As the two get to know each other's oddities, there are fights and tears, dancing and laughter, a date which turns into a baptism ceremony and a love story. Diane Mair as Deborah gives a convincing performance as a Christian woman who has no doubts about God, while Alex Podluk as Jake successfully portrays an empty man, angry, stubborn and unable to speak without clenched teeth.
Playwright Jane Martin draws a relationship of two unhappy people who are stuck in their beliefs. The language chosen reminds the viewer immediately of Shakespeare and all his failed love stories, from Angelo and Isabella to Romeo and Juliet. The theatrical speeches of Ophelia and Hamlet blend with Jake and Deborah's daily conversations -- a drama unfolding on- and offstage.
A variety of set changes show the two in their apartments, at the Academy Awards in L.A., and finally at a New York theater where Deborah's dream of a major role on Broadway comes true. Director West Hyler transitions between scenes cleverly, letting the actors recite their monologues while they change their costumes onstage with the help of a stage hand.
H2O, a dynamic and excellently executed play, is an honest account of the hectic and unsustainable life of theater people.  One wishes both characters a happy end, even as you fear that things will soon fall apart, as it is often the case when humans who strive for purity and love are challenged by their selfish egos.