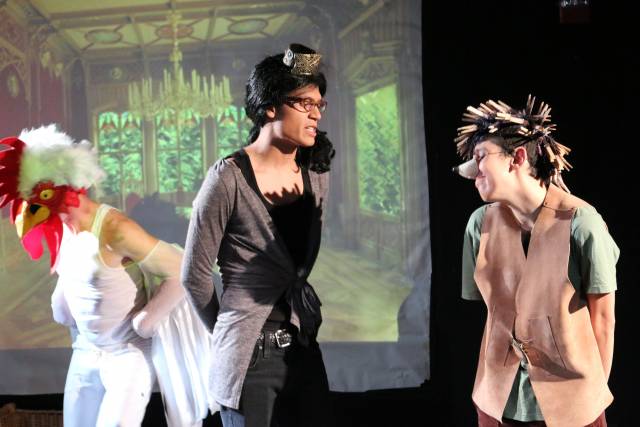 It is impossible to leave Hans, My Hermaphroditic Hedgehog without a smile on your face.
Terence Diamond's writing and Jz Sinanovic's direction truly shine in this fun show, presented by Wow Cafe Theatre and Concrete Theatre. It is a wild ride that is a testament to how a dedicated theatre company can take an imaginative story and make the audience feel like they are at a sold-out Broadway show.
The entire cast is versatile and talented. With just a few accessories and changing posture, accent and speech patterns, Natalie Martzial, Soleidy Mendez, Laura Murphy, Jack Quint and Harrison Santana each believably portray a multitude of characters as they relate the tale of Hans (just Hans, played by Bear Spiegel) and their Cockerel (played by Lance Windish), who serves as their mighty steed.
Narrator Natalie Martzial opens the story: Hans is born to a heteronormative couple who appear to be modern-day hipsters in Brooklyn, quite concerned with kale, which they sell, along with mushrooms, from their pink food truck. When the couple, named Hetero (Jack Quint) and Norma (Laura Murphy), have a child, he is dismayed to see it is Hans, who defies species and gender. Norma, not so much, but like a good wife, she does what her husband decrees, which is to send their child into a landmine-filled wood astride a cockerel.
Hans and Cockerel encounter three kings (all played by Soleidy Mendez) who make decisions that basically promise their children (all played by Harrison Santana) to Hans. Mendez and Santana are a dynamic duo in all of their scenes together, no matter what characters they are portraying.
Lance Windish as the Cockerel is a stand-out in that he expresses his entire role through body language alone -- and he got the most laughs. He also carries Hans and other cast members across the stage throughout the show and does some impressive yoga moves, all while wearing a cockerel mask that he designed.
Harrison Santana and Bear Spiegel are also musically talented and play the saxophone and electric guitar, respectively, throughout the show. There is a really adorable scene where one of Santana's characters and Hans meet, and convey their feelings in a musical interlude.
And there is not one but two endings to this show -- and you get to see them both.
All of the cast is on point with their lines and do not miss a beat, keeping the fast pace steady. The audio-visual team does an amazing job with the video backdrop of the woods and other scenes.