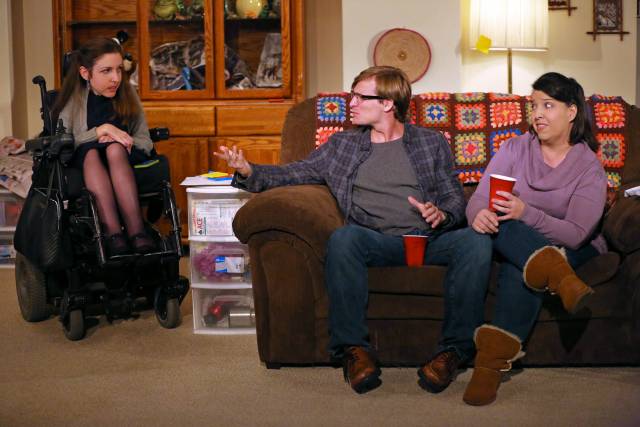 The Healing, presented by Theater Breaking Through Barriers, is a play about the aftermath of a life devoted to faith. Zoe, a woman who spent her life in the Christian Science Church mentoring children with disabilities, has suddenly died alone in her suburban Idaho home. Four of her "kids", all of whom are now well into adulthood, gather at her house to attend her funeral and help pack up her belongings.
Each of them left the church after struggling painfully with its dogma, a dogma which told them that their physical conditions were the result of spiritual failing. And each of them has retained some degree of bitterness towards the camp and Joan, its nefarious director. But they have all retained some affection for their late friend Zoe. As they wrap up her atrocious knickknacks and reminisce, exchanging barbs and memories, they develop conflict over a troubling fact; Zoe, the one whose faith was always unshakable, appears to have committed suicide.
The cast is uniformly superb, particularly Shannon DeVido as Sharon, who led the charge to shut down the camp, and Mary Theresa Archbold as Laura, who was once a disabled orphan from overseas and is now a professor. There is bitterness and loneliness in their faces and voices, but little in the way of self pity.
The play, written by Samuel D. Hunter, is presented in a realistic style with a great attention to detail. The atmosphere of Zoe's tacky, suburban Idaho dwelling is very striking, thanks to Jason Simms' remarkable set design and the sharp direction of Stella Powell-Jones. These, plus the physical layout of the theater itself seem to place the audience right in the living room of the house. It's a wonderful arena for these performances; each actor has created a detailed, realistic character.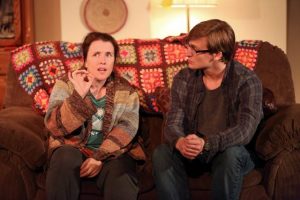 We also witness the last weeks of Zoe's life in a few expertly-staged flashbacks. Still, Zoe, the ghost at the center of the play, remains a mysterious figure. When the long-loathed camp director Joan finally appears, played in fine, flighty Upper-Midwestern style by Lynne Lipton, a wave a shocked recognition wafts through the group, and through the audience. Of course we know who this is without being told, and it is rather painful to hear her awkward attempt at long overdue apology to the "kids". It is a credit to Lipton that despite knowing of Joan's beastly behavior towards the children in her charge, we feel some touch of pity for her.
The play itself has moments of wit and pathos, but never really goes anywhere. It's an interesting set-up but it unfolds fairly predictably and without any twists, surprises or even much of a dramatic climax save the appearance of the somewhat repentant Joan. In addition there is an overriding sense of depressing hopelessness in the lives of all of the characters, regardless of whether they have sought comfort in religion, strength in atheism or satisfaction in work. It's all depicted as rather pointless. But the acting and direction go a very long way in overcoming these faults and make The Healing an often fascinating glimpse into the spiritual lives of people who were given few choices in life except how to escape.