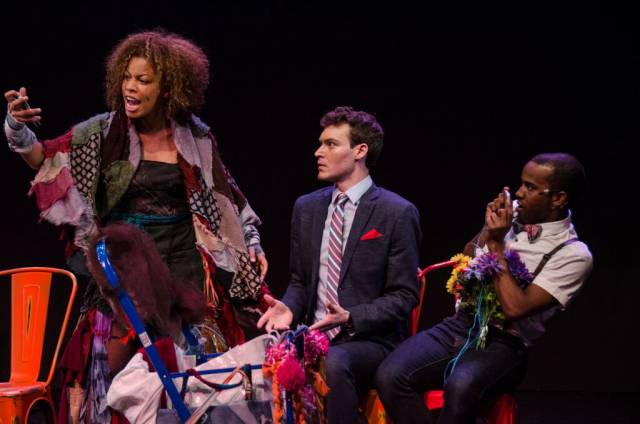 Held Momentarily is a show about the best and worst of New York City; it takes place entirely inside a subway car that has stopped moving, forcing the passengers within to deal with their own demons, while also trying to solve the problems that arise as they inevitably become a microcosm of society. The colorful characters include type A psychologist Mindy (Geena Quintos) and nerdy cartoonist Greg (James Zebooker) who have just had a very unsuccessful Tinder date, which he wants to continue but she doesn't. Stan (Jordan Barrow) is en route to a birthday celebration he doesn't wish to attend, sad really because it's his own, and pregnant Sam (Yael Rizowy) who is, of course, on her way to the hospital to deliver her baby.
There's also the arrogant investment banker Cal (Oliver Houser), insecure med student Liam (Ciaran Bowling), and Asherah (India Carney) a bag lady who has more tricks up her grocery cart than Mary Poppins. Conceived by Oliver Houser, who wrote the book, music and lyrics, and directed by Harry Shifman, Held Momentarily manages to be both extremely entertaining and insightful, as we see situations that seem to have been imagined by great screwball writers, which also happen to sneak behind us to deliver punches in the figurative gut (the coda in particular is a heartbreaker).
What Houser's songs do best is capture the contradictory nature of riding the subway in New York City, as the space between stops seems to be both an eternity, and also too short. For people like Liam, the commute seems to be the only time he's granted in a day to be away from a world that puts too much pressure on him, for Cal, being on the train serves only as a ride between transactions and business meetings, while for someone like Asherah, this is her home, a place where she welcomes uninvited guests who often neglect her.
The pitch perfect ensemble - Carney, Quintos and Zebooker are true standouts - does the best to remind us of how hard it feels sometimes to be a functioning member of society, when all you wish you could do is take a breather in a private island. But for a show that could've consisted of sardonic complaints about the MTA, Houser's musical chooses to be a humanist beauty, a piece of musical theatre that challenges us by showing us how impatient, envious and selfish we can be, while daring to suggest that we see past it and choose empathy and kindness instead. It certainly will give audience members something to think about on their way back home, while it might not make them wish to be stuck in a car with strangers, it'll remind them that to give someone a smile, or to merely wish them well costs nothing, and makes the smelly, overcrowded subway feel like home for a second.