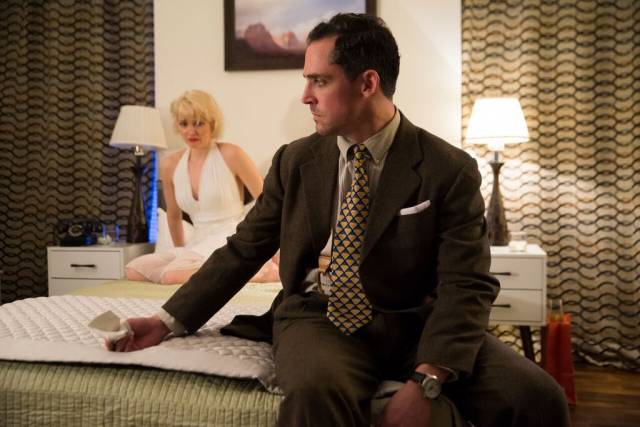 "We're all pretty familiar these days with performances happening in non-traditional spaces," says James Hillier, Artistic Director of the London-based theater company Defibrillator in his director's note for Insignificance, the odd production currently playing inside Suite 505 of the posh Langham Place Hotel on 5th Avenue. And he's right, many theater-goers have become increasingly familiar with site-specific work housed in unusual spaces, but much like his director's note, this play fails to address the corresponding questions associated with producing and attending such work. After viewing the two hour performance, some may still ask: why are we here? I may push further and question: why was this play produced this way?
The material is deeply dated. First produced in 1982, Terry Johnson's play follows four iconic figures having an imagined encounter all set in one hotel room on a night in 1953. Although inexplicably going by aliases, these characters are undoubtedly Marilyn Monroe, Albert Einstein, Joe DiMaggio and Joseph McCarthy. While the circumstances of their meeting are fantastical, the depiction of these famous figures is painfully familiar. Monroe is called a slut and a whore throughout the piece and just in case we may bristle at this language she then behaves adulterously and lasciviously - twice offering up her body in utterly cringeworthy scenarios. The script includes several derogatory slurs, but the logic of the production seems to be "that's what it was like back then!" Again, I return to the first line of the director's note that states but does not reconcile the questions posed by alternative staging. It neither justifies nor illuminates.
In staging this material in an intimate, well-lit hotel room, the text actually becomes more problematic - I found myself making eye contact with fellow theater-goers and grimacing as McCarthy spat the 'N word.' When presenting complicated material in this format the audience is implicated in the action. In this performance audience members seated close to the playing area frequently find themselves illuminated by practical lighting as if in an interrogation room. They became witnesses held hostage by the social rules of theater. They were culpable in the events that followed but not given any agency to affect them. What initially appeared to be a jaunty piece of "insignificance" ultimately dipped into some dark territory and the immersive style exacerbated the script's issues, which I suspect are more believably benign when experienced in a traditional setting.
As with so many immersive theater productions one may be led to believe that discomfort is the very point. But it's not actually particularly difficult to make an audience uncomfortable and it is not particularly ethical when done irresponsibly. As many artists are discovering when approaching these non-traditional projects, some adaptation is required and a critical consciousness is necessary to consider the ramifications of placing the audience so close to the action. In the case of this production it feels like the text was simply dusted off with the mentality that by placing it in an actual hotel room it would make it new. This play is of a very specific time period and style of theater that is made for the stage. It's the kind of crowd-pleasing dramedy that appeals to an older audience and can fill seats at high ticket prices. It's an odd choice for this immersive staging. It's unclear who the audience is supposed to be and how they are supposed to behave.
The audience I experienced seemed to be a large group on a company outing, and at first the play seemed appropriate for this kind of crowd - there's a cash bar and free snacks and everyone enjoyed the plucky black and white video that oriented the crowd in the holding area. However as the play shifted radically towards the melodramatic the audience shuffled uncomfortably and even giggled during moments that were clearly intended to be dramatic. The woman next to me crunched nervously on free M&Ms as Marilyn Monroe sobbed two feet away from us.
It is important to take the time to consider the implications of this site-specific theatrical trend, because it's persistently sticking around, and in many cases it is leading to some very exciting work that critically highlights the audience-performer relationship. During the second act of Insignificance Marilyn is put through the emotional and physical ringer. She writhes on the bed, she runs into the bathroom, she bleeds, she cries - and we watch. The play goes to such an unexpectedly brutal place that I thought it may have hit upon a dramatic thesis that justified the setting. This scene spoke to the current moment in women's rights. At a time when news features Bill Cosby battling 35+ potential rape victims, Kesha fighting for her right to extract herself from a contract that ties her to her abusers, and Lady Gaga singing from the Oscars stage flanked by survivors of sexual assault it is an audacious choice to stage violence against a woman with a room of captive observers. This powerful moment is immediately undercut with the following clown show as the men return and bring with them all the comedic banter of the first act. Again, I can imagine this playing off in a traditional setting, but within this intimate environment the insistence on sticking with the original material and interpretation feels inappropriate.
This production does feature some very strong performances. Susanna Hoffman is luminous as "The Actress" (who are we kidding, as Marilyn Monroe); she infuses her performance with humor and pathos. Michael Pemberton makes the audience squirm with his excessively slimy portrayal of "The Senator" (Joseph McCarthy). Anthony Comis as "The Ballplayer" (Joe DiMaggio) brings great comedic timing to an endearing performance and Max Baker is charming as an utterly baffled Albert Einstein who in one scene chews a piece of gum and the resulting routine is so delightful it borders on theatrical perfection. With this said, the enormous effort shown by the cast can't compensate for the disjointed production. Throughout the performance these characters feel lost in completely different plays. It's as if the actors have each been directed to run full speed in opposing directions without much concern for transition or pace. Insignificance wants to be new but it also wants to be old; it is sometimes bold but more frequently safe. Much like the woman at the heart of its story, this play just can't have it all.