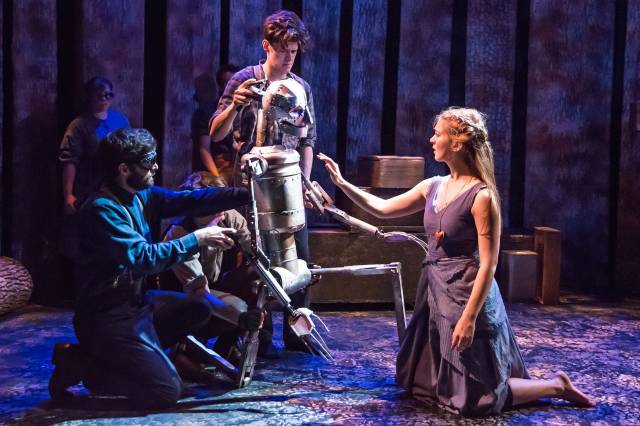 The Woodsman, adapted from L. Frank Baum's iconic Oz canon, is a prime example of theater that is bold precisely because it's a bit old-fashioned. This production from STRANGEMEN & CO. confidently establishes and maintains their intended aesthetic in a way that is undeniably effective. The play provides an origin story for the classic American character The Tin Man, but at its core it is a tale of lineage, love and loss. The story is simple and will be familiar to anyone, regardless of her or his relationship with the original material. The company also seems to be referencing many classic literary and theatrical sources with this piece. Early on we see the lifespan of Ma and Pa (Lauren Nordvig and Will Gallagher respectively) in a wordless sequence that is deeply reminiscent of Marcel Marceau's famous routine Youth, Maturity, Old Age and Death which silently reenacts the ages of man.
The script is written by James Ortiz, who also co-directed this production with Claire Karpen and stars as Nick Chopper (The Woodsman). Many of the actors perform multiple roles, transforming from characters to creatures to objects. The cast performs the almost completely non-verbal script through mime, movement, puppetry and sound, lots of sound – it's a noisy production. At times the soundscape is beautifully atmospheric, with actors clicking and snapping to create the popping score of a roaring fire, and occasionally it is a cacophonous assault of wailing and groaning. Both are compelling, but I did find myself wishing for more dynamics within the moments of chaos and violence. Eliza Simpson is enchanting as Nimmee, the daughter of a sorcerer, slave to the evil witch and the Woodsman's true love. Will Gallagher is absolutely winning as Pa/Tinker, displaying impressive comedic timing and an aptitude for physical characters.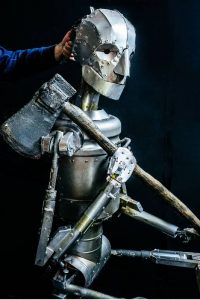 For all this production's folk and childlike whimsy, there is some question as to its intended audience. Determining whether or not this play is kid friendly will likely depend on the stories you were exposed to as a child. The play is certainly dark but that doesn't necessarily feel inappropriate for the genre. The witch whips through the air, a stick affixed with a cruel looking mask and a billowing cape, swung by a growling puppeteer. Later we see her standing upright, as a bunraku-style puppet, manned exceptionally by Sophia Zukoski and Amanda A. Lederer who endow the antagonist with absolute evil. This is an old-school witch; unlike her contemporary counterparts there is nothing empathetic about this character who brings misery to early person in the story. Her evil is overwhelming but it is not without precedent. Anyone who has encountered original Grimm or any number of non-western folktales will recognize and appreciate the frightened thrill of a good old-fashioned scary story that makes you jump from time to time.
With previous runs at Ars Nova and 59E59, this is the third production of this play for the young theater company, founded by recent graduates of the SUNY Purchase Conservatory program. Part of what makes this company refreshing is their ambitious and rigorous approach, but it is also exciting to see the benefits of continued support in the development of new work. These artists are still building their collaborative process and it is easy to imagine areas of future growth. There were several moments in this production that reveal the fact that these are relatively nascent young artists. For example, the beginning of the play features a direct address to the audience where Ortiz lays out the exposition in a completely different theatrical style that does not track with the rest of the play. In a production marked by so many innovative techniques, this choice feels like an artist nervously delivering a preamble in explanation for their work for fear that people may not otherwise "get it." We will. Trust Us. The work that follows is so expressive and clear that the opening scene does a disservice to the performers and the audience. Hopefully, with time, this company will gain the confidence to quiet the inner critic that is overly concerned with making work that is understood rather than work that is felt and experienced.