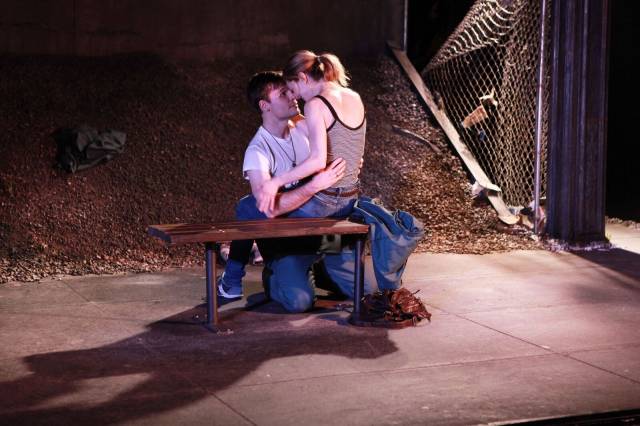 Bus stops sure have changed since Inge's day. The action of Martyna Majok's Ironbound, now playing at Rattlestick Playwrights Theater in a co-production with Women's Project Theater, all occurs around a bus bench in Elizabeth, New Jersey and its main player, Darja (an exquisite Marin Ireland), a Polish immigrant working as a factory worker and housekeeper, is forever waiting for her ride to roll in.
Darja's life, presented to us in fractured time, is one of constant transition; we track her through the years and the men who love, use, abuse and leave her. Plummeting into media res with a blare of highway noise (Jane Shaw did sound design), we meet her last live-in lover first, in the year 2014. Tommy (Morgan Spector) is a Jersey boy postal worker done wrong. He's been cheating and been caught, and Darja says if he wants her to stay he better pay to the tune of $3,000 -- money Tommy knows will be used to look for her son, Alex, an addict who he'd rather not have around. Majok introduces Darja first at her strongest: she's through settling and can haggle, she's a survivor and has an acerbic wit to match. But we learn from here how she earned her savvy.
22 years earlier, she and her first husband, Maks (Josiah Bania), sit on the bench counting the pocket change of their newly adopted country. Maks has music on the mind and a fire in his belly and is determined to share his gift -- maybe in Chicago -- before he shuffles off. Darja, meanwhile, is pregnant with their son and needs nothing so much as stability. The scene is steeped with poignancy, as we know he exits the picture and to some extent, the fate of the child.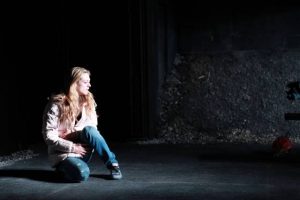 The appearance of a young drug dealer, Vic (Shiloh Fernandez), on a night when Darja, battered by her second husband, hides under the overpass near the stop, gives her the strength to finally break away from her abuser. Majok is too good a writer to have Vic be the unqualified (to say nothing of male) savior, though he does want to get her dinner and a hotel room. It's that his youth recalls her son that makes her take charge and call it off for good.
Majok's dialogue is rich with dialect and a mystifying, but wholly naturalistic lyricism. Her ear for the dropped articles and unnecessary suffixes of non-native speakers makes their talk of the American dream (or nightmare) far from bromidic and far more affecting. Under Daniella Topol's nuanced direction, the ensemble turns in vulnerable performances, though most with the veneer of Jersey cragginess to match the gravel on scenic and lighting designer Justin Townsend's set. Their world, where industry is broken and the well-off class would "send their houses to China to be cleaning" if they could, feels as lived in (or used up) as Darja's ever-present parka furnished by costumer Kaye Voyce. It all rings true, right down to Bruce Springsteen playing from an offstage car and a requisite mention of disco fries.
Darja's battle is one against the ritual and ghosts of the bus stop: the place that ushered Maks away and that shuttled her from the now-defunct factory where her abusive second husband managed her. She turns heel at last from the shelter and steps into something uncertain but maybe, probably better than what she's had before. To see her arrive here is to witness a uniquely human triumph.