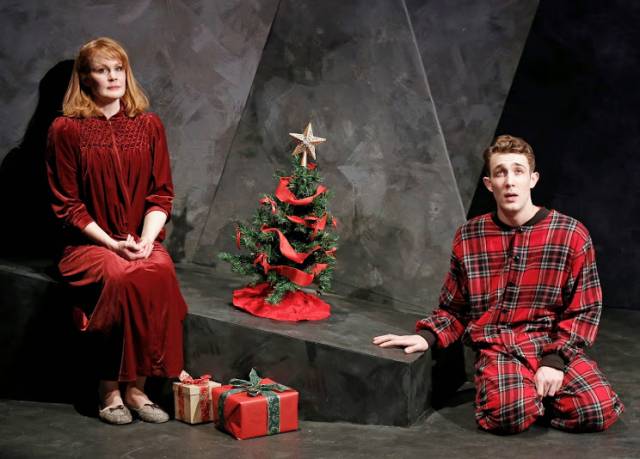 A woman's life is defined by her relationships with two men in John & Jen the "twist" being that they are not relationships of a romantic nature, but instead with her brother, and son. When we first meet Jen (Kate Baldwin) in 1952 she is twelve years old, who has become the self-appointed protector of her six year old brother John (Conor Ryan) whom she shields from their father's abuse. Trying to explain to the little boy why Santa Claus hasn't showed up at their house, she devices a little white lie, she will find herself repeating throughout the four decades the show spans.
During the first act, we see as John and Jen grow close, only to then grow apart, as she leaves their hometown to pursue a more vibrant life in New York City, while he ends up joining the army and being deployed to Vietnam. The love that once united them, stands no chance of survival against their opposing political beliefs and by the end of the first act, their relationship has completely been destroyed. When the second act begins, Ryan still plays John, only this time he's not Jen's brother, but her son, with whom she tries to fix the mistakes she made in the past.
As if in a familial, ergo less creepy, version of Vertigo, Jen tries to shape her son after the brother with whom she once was so close, little does she know - or seem to care - that her son wants a completely different life. Unlike his uncle, he has no interest in baseball or in living with his mother past high school graduation. Partly delusional, partly plagued by feelings of guilt, Jen's retroactive agenda only makes her son unhappy, and the closer she wants to be to him, the further apart they grow.
This rarely revived two-person show, with music by Andrew Lippa and lyrics by Tom Greenwald, quite often reaches brilliance, as it touches on aspects of life, musical theatre rarely approaches. The direction by Jonathan Silverstein is seamless as he makes the most out of the stage and is able to convey the passing of time without recurring to makeup or prosthetics, instead letting his actors emote and age through their instrument. The scenic design by Steven C. Kemp, which cleverly uses slanted walls and an AstroTurf platform to represent everything from lawns, to baseball diamonds and graves, is exemplary, while Josh Bradford's lighting design beautifully enhances the different moods.
The show wouldn't work without the great performances by Ryan and Baldwin. The former playfully adapting his body moves and facial expressions to playing two men who are as similar physically, as they are worlds apart in terms of personality. Ryan's voice at times quivers, which effectively helps us understand that the show only allows his characters to reach a specific point in their lives, for someone playing a version of an eternal kid, Ryan infuses great maturity to both Johns.
Baldwin is absolutely glorious, convincingly playing a Kate we see age forty years, going from a fearful girl who begs her little brother to tell their father to hit her, instead of him, all the way to becoming an equally fearful mother, terrified of what the world might do to her precious son. Baldwin's gorgeous voice shines in the heartbreaking "It Took Me a While", which paired with more joyful numbers makes for a truly impeccable performance. Rarely do we get a chance to see an actress onstage ride the varying degrees of emotion, Jen must endure. Baldwin takes us through all of them, like a pro. Last seen onstage in Lippa's Big Fish, Baldwin seems to have become the go-to actress for characters that age decades (she did the same in Giant), her youthful face and demeanor transforming through her ace vocal mastery.
A moving chronicle about growing up and finding our place in the world, while living with the mistakes we've made John & Jen is made an essential show thanks to its sincerity and lack of artifice. With a star-making performance by Ryan, and Baldwin's greatest work yet, one can only hope it runs for at least four more decades.