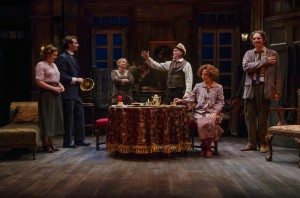 It's often been said that the greatest writers of the English language -- with the exception of Shakespeare and one or two others -- have all been Irish. Seeing The Irish Repertory Theatre's production of Sean O'Casey's "Juno and the Paycock", directed by Charlotte Moore, one understands why such statements are often made. This is a production that O'Casey would have loved, something that can't be said of other incarnations of this great play, which is not only great theatre, but also great literature.
The classic tells the story of how a working class family living in the slums of Dublin is destroyed by the Irish Civil War, as were so many other thousands of families.  Father "Captain" Jack Boyle (Ciarán O'Reilly) avoids work like the plague and spends his days getting drunk with his buddy Joxer Daly (John Keating).  Daughter Mary (Mary Mallen) is on strike because "a principle's a principle."  Son Johnny (Ed Malone) had his arm blown off during the skirmish on O'Connor Street between the IRA and the Free State supporters.  Mother Juno (J. Smith-Cameron) is the sole provider of the family. Things brighten up a bit when the family is left a legacy by a distant cousin, but nosedive again when the authorities read the will of the deceased.
"Juno", the second part of O'Casey's "Dublin Trilogy", is generally considered one of the best of plays of the twentieth century, but it is the emotional chemistry and the dramatic energy of these five great actors that make the reaction of this play nothing less than an explosion that blasts the audience into the highest emotional sphere possible in theatre.  Charlotte Moore has brilliantly handled the climax of the play so that the emotional impact of the work is more like a mother's caress than the punch in the stomach more traditionally associated with tragedy.  War, poverty, and alcohol-abuse are certainly ingredients for the making of a tragedy, but O'Casey's text shifts the pathos from from the men's terrible experiences to that of the women, so that the harmony and destiny that they share (again beautifully handled by Moore's direction) have an uplifting effect and -- something that is very Irish -- is in the end heartwarming.
As if a great text, great performances, and great direction weren't enough, Dublin in the 1920s is brought to life through the wonderfully detailed set designs of James Noone and costumes of David Toser.
Although there are one or two tiny little weak spots in the performances of one or two of the minor players (and perhaps the overwhelming magnitude of the major characters' performances made these standard performance only seem weak) this production is one of the must-sees of the season.  It is not to be missed!