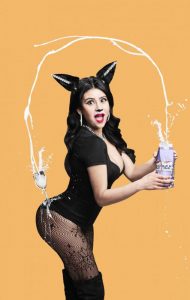 Imagined by the same creators as Full House! The Musical! and The Saved by the Bell musical Bayside! The Musical!, comes a musical on the prowl: Katdashians! Break the Musical! Marrying two very unlikely concepts--felines and the Kardashian family--this musical is a hysterical parody on the daily life of the family...as cats.
Audience members are quickly drawn into the strange, hyper-real, hyper-rich life of the Katdashians, but not without first being given a linguistic guide on the family's well-known TV verbatim. Included in the playbill is the secret to unlocking another level of Kardashian fabulousness to the show called, "How To Speak Katdashian". The vocabulary guide informs and defines words that will be used in the show. It is not long before the flipping of pages could be heard, two minutes into the show, as audience members flip through the playbill to define, "Dash" as "A clothing store 'owned' and 'managed' by Kourtney, Kim and Khloe. They may or may not sell clothes."
Through the fun mirage of personalities that bustle and bumble--sometimes tripping--across the stage, the story highlights the family's chemistry. The audience experiences first-hand what it's like to live with Kim (Carmen Mendoza), Khloe (Elliott Brooks), and Kourtney (Bridget Kennedy) through songs titled, "The Selfie Song" and, unapologetically, "Kim M*therf*cking Katdashian." Although not all audiences can relate to the uber luxurious life of selfies, lip gloss, and hard spa decisions, they may relate to the push and pull marriage between Kris Kat (Bailey Nolan) and Bruce Jenner, who later becomes Catlyn - the latter embodied with dizzying perfection by the scene-stealing transgender performer Peter Smith.
Although certainly not for everyone and not always in-key, the performance exemplifies a certain undeniable truth about our generation and begs the question: who are we admiring? However, it is important to note that one must put all seriousness aside before entering the theatre and simply enjoy the fact that they are indeed not a part of the dazzling, stressful life of a Katdashian.