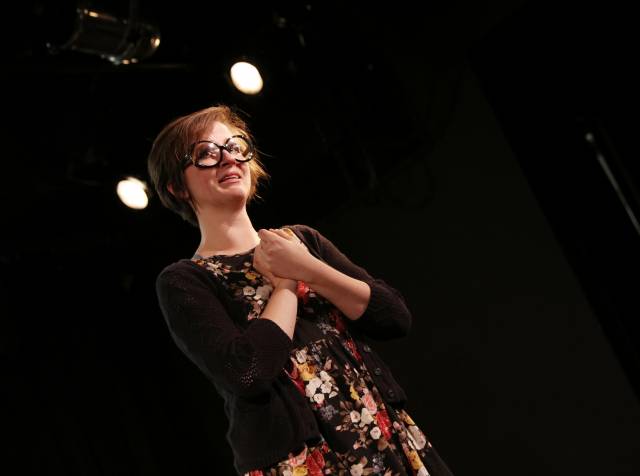 Amy Virginia Buchanan does not make "pretty" theatre, and she is not interested in painting a delicate, agreeable, carefully-worded picture of what it is like to live with Michael, her brother with down syndrome. The Michael Show, Amy's one-woman piece on life with Michael directed by Drew Petersen, is beautiful because it is honest. Playing with the style of a hosted television show that mirrors Michael's own tendency to suddenly break out as the "host" of his own show, Amy's piece is about exploration, exploration for Michael as a budding human being and exploration for Amy as a loving sister.
Enter Stage Left: Amy Buchanan with ukelele. She sings a sweet but relatively vague line to open the show that later comes full circle after audience members have taken the journey to discover the star and subject of her show: Michael. The profound performance covers Michael's likes and dislikes (he hates longer lines way more than you), interests, desires, and fears, some funny, some sad, but all of which inspire contemplative thought. The stories that Amy weaves put audience members as flies on the wall in the lives of the Buchanan family.
Recalling one particular event, Amy sweeps the viewers up with the Buchanan family as they travel to the Empire State Building for the first time. We feel the relief with the family as they skip the long lines because of Michael's condition; as the elevator rises and doors open to reveal the sweeping, death-defying view of Manhattan, we feel Michael's hesitation as he wails in fear screaming, "I will die!!!" We laugh with Amy because she laughs, and pity the group of pink t-shirt clad teen girls from Texas who stare in disbelief at Michael. Amy retorts that they came to NYC to see something crazy -- like the naked cowboy -- and what they got may have been a little too real...
Amy has a gift for storytelling that can transform The Tank theatre from a bare stage with two chairs to a massive city sky scraper to an Oklahoma kitchen during a thunderstorm, all in the blink of an eye. She changes her voice, demeanor, and perspective to relay Michael's spirit. Oftentimes, Amy will jump out of her performance to address how she feels about certain things -- like the common misuse of the word "retard". Perhaps what makes her so captivating is her ability to embrace being fully present. Throughout the performance, Amy often addressed individual audience members, asking them questions and sometimes even asking for favors ("Will you hold this ukelele until I say? Thanks!").
Amy, with ease and authenticity, not only relays the importance of giving oneself permission to feel things, without feeling badly just because someone is born differently from you, but does so from the genuine view point of a sibling -- a sibling who can get annoyed from time to time, as siblings usually do, but ultimately comes from a place of relentless, familial love.