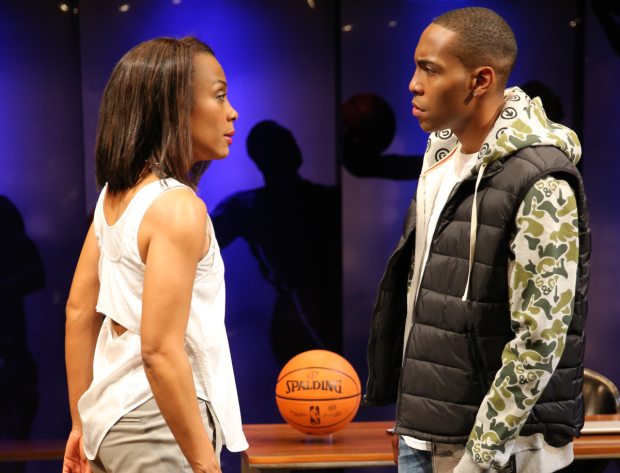 The high-profile world of the NBA is dominated by men, but in King Liz, it's a woman who takes center court. Fernanda Coppel's new play, currently premiering at Second Stage Uptown, takes on professional basketball from the perspective of Liz Rico (Karen Pittman), an indomitable force of a woman who's fought to become one of the top sports agents. With Liz at its helm, King Liz tackles themes of race, gender, and the struggle for professional success in a brashly compelling way.
After 22 years in the industry, Liz one of the most influential sports agents and women in the country. But as a black woman with an "intimidating" personality, she still has to prove she's worthy of a promotion when her boss (Michael Cullen) announces his retirement. At her boss' urging, Liz takes on a new client: Freddie Luna (Jeremie Harris), a high school basketball wunderkind from the projects set to become the NBA's newest star. Liz pours her energy into making him a success, but when Freddie's troubled past becomes a liability, Liz must face the consequences of her relentless ambition.
Coppel's charged play comes to life through Lisa Peterson's explosively precise direction and the universally talented cast. Harris' depiction of Freddie is particularly moving and marries fierce bravado with vulnerability, letting us root for his success but also understand the backlash that sparks his downfall. Another standout is Irene Sofia Lucio as Gabby Fuentes, Liz's wittily eager assistant who fights for a well-deserved promotion of her own.
This is Liz's play, however, and that fact is continuously asserted through Pittman's triumphant performance. At one point, Liz tells Freddie no one can stop her, "not even God"—and with Pittman's empowered tenacity, we believe her. Pittman's Liz is nuanced but never weak; even at her lowest moments, there's a magnetic strength keeping her in control. It's clear how hard Liz fights for power, but Pittman's intensity always feels organic, not overwrought. The only inauthentic moment comes when a dinner between her and the Knicks' Coach Jones (Russell G. Jones) turns to the possibility of marriage. Though it adds some slight character development, this scene mostly just forces in the idea of "having it all" that's commonly found in narratives of strong women. Because the conversation never really pays off and Liz is so blatantly independent already, it seems to be included more because it's expected than because it's beneficial.
Pittman's captivating performance also means the most riveting scenes are when she's controlling the proceedings (Liz persuading Freddie to sign with her is a particular highlight). As a result, the plot twists aren't as dramatic as intended, even seeming slightly heavy-handed in comparison to the effortless allure of Pittman's moments to shine. But these less successful moments are rare, as Coppel's script is largely sharp and insightful, taking on mammoth topics like race and gender in an accessible and urgently relevant way. Though it may not quite be a slam dunk, King Liz takes a difficult shot and ultimately scores.