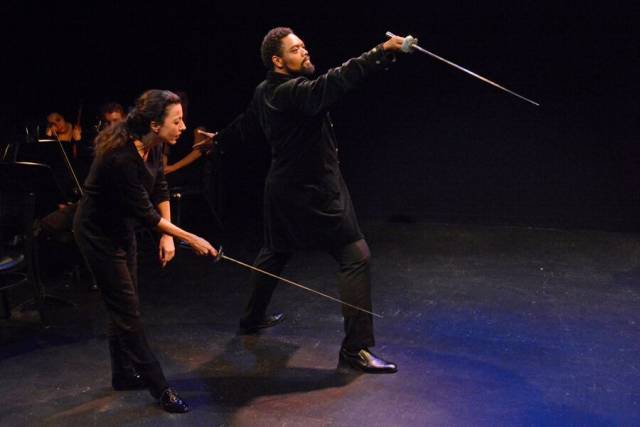 The Little Opera Theatre of NY's production of Chevalier de Saint-Georges' L'amant Anonyme is an exercise in restrained beauty that should inspire other opera companies to remember that the power of the artform isn't bound by the size of the venue where it's performed. With a cast of six, and a small orchestra that plays right next to the performers, Theatre B at 59E59 completely stripped of any adornments, feels as opulent as any room in Versailles, such is the power of the performers and the gorgeousness of the work they're bringing to life.
The simple story at the center of the opera has the timid Valcour (Bernard Holcomb) trying to woo Léontine (Jenna Siladie) without revealing his true identity. This leads to comedic scenes in which the young lady must try to contain her desire and excitement at the idea of having an admirer, and swoon-worthy moments courtesy of the romantic hero as he sings his praises for the lady of his dreams. There isn't much of a dramatic arc so to speak, given the tone of the opera it's easy to assume no one will meet a tragic death by sword or pulmonary disease at the end, but the cast sells the larger-than-life emotions without an ounce of irony, which makes for a truly enjoyable evening at the theatre.
Scenes from the opera are intertwined with breaking-the-fourth-wall moments in which the actors also reenact scenes from Saint-Georges' life, he was the first man of African descent to lead an all-black regiment in Europe, and as the actors reveal, he might have been more successful in his artistic enterprises had it not been because his mixed race sadly imposed limitations on how he was perceived in French society. At first the added historical trivia seems oddly placed and unnecessary, but slowly Saint-Georges' life reveals itself to be key in the development of L'amant, for we can't help but wonder how much of this was based on his life. How many loves he was denied because he was unable to reveal himself.
Praise must be also addressed to Costume Designer Matsy Stinson, who using multicolor patterned fabrics the actors drape over their simple black outfits - like capes and gowns - adds a layer of elegance to the performance. While the real life story of Saint-Georges can't help but cause a heavy heart, the grace of his work (this is his only surviving opera!) and the passion with with The Little Opera Theatre of NY brings it to the stage, should send audiences home floating on a blissful cloud.