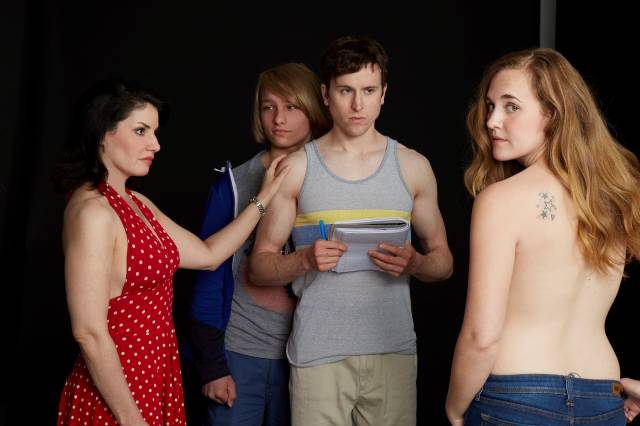 Lancelot: The brave knight of King Arthur's Round Table who had an adulterous affair with Queen Guinevere, then rescued her from the stake when she was about to be burned for treason.
Ryan: The youngest manager of a store named United Goods in Oklahoma who encourages his employees to cultivate a productive, safe and happy atmosphere for both customers and employees.
It is difficult at first to see the connection between these two men in Steven Fechter's Lancelot. They couldn't be more different. However, the connection becomes clear when Ginger, Ryan's former art teacher, re-enters his life. "My Lancelot," she calls him. It was a nickname she had for him when they conducted a tumultuous affair many years before. He was thirteen. She was twenty six.
Ginger (Romy Nordlinger), having served time in jail for the affair and afterwords forging a successful art career, wants to rekindle the flame she and Ryan once had. Ryan (Stephen James Anthony), who is trying to live a stable life with his managerial position and girlfriend Tara (an amusing but mildly over-the-top Lulu Fogarty), wants to leave his wild past behind. What ensues is a sexual cat and mouse game that is haunted by a Boy, played by a fine Grant Riordon, whose purpose I will leave prospective audience members to find out.
Playwright Steven Fechter (author of the film/play The Woodsman) has written an effective piece about what happens when the past comes back to haunt you. The beginning is a bit slow, but the leisurely pacing gives us time to get to know the characters and where they come from. Once the play starts to pick up, it is riveting.
The production was designed and directed by Thom Fogarty. The audience sits on two sides of the playing space, the central piece of which is a bed covered in golden blankets and pillows to represent a hotel room. The two other locations in this play, inside and outside of United Goods, are placed at opposite ends of the playing space. This expansive use of the room effectively fills the Gym at Judson, yet simultaneously creates an intimate playing space where the actors are occasionally inches away from the audience.
Individually, Stephen James Anthony and Romy Nordlinger turn in wonderful performances: Mr. Anthony is completely believable as a man who, whether he likes it or not, is still a rebellious youth at heart. Even when he's addressing his employees, his youth peeks through his authority. Ms. Nordlinger is sultry, sexy, and vulnerable as Ginger. Together, they have sparks of sexual chemistry, but haven't quite lit the flame required for a play with such high sexual stakes. However, this tension will surely come over time as they grow into their roles.
Performances of Lancelot continue at the Gym at Judson through August 29.  For more information, head to www.360repco.org.