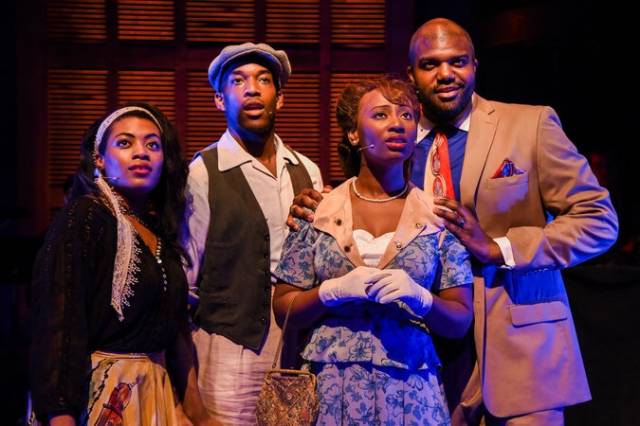 Can you ever really escape your past? This is the question posed by For the Last Time, a new jazz musical now playing at the Clurman Theatre. With music and lyrics by Nancy Harrow and direction by Will Pomerantz (who each additionally serve as co-librettists), For the Last Time is an ambitious musical that, though slightly unbalanced, ultimately entertains in an affecting way.
Based on Nathaniel Hawthorne's The Marble Faun, the musical takes place in 1950's New Orleans, as the moralistic writer Hilda (Anita Welch) arrives to visit her artistic cousin Miriam (Brittany Campbell). Together with club owner Kenyon (Carl Clemons-Hopkins) and the free-spirited Donatello (Britton Smith), the foursome enjoy the pleasures of life in New Orleans during Mardi Gras. When a man from Miriam's past reemerges with dark intentions, however, these carefree lifestyles are abruptly disrupted, as each character is forced to confront their own actions.
This story is brought to life through Harrow's score, performed by an onstage 8-piece jazz ensemble. As a jazz songwriter herself, Harrow's rhythmically intricate songs sound closer to what one would hear at a jazz club than a Broadway musical, and the show's opening is even performed as rhythmic spoken word. Though the strength of the musicians sometimes results in them overpowering the performers' vocals, this jazz influence is a welcome complement to the story, further establishing the New Orleans setting while amplifying the darker undercurrents.
The show's design, with sets by John McDermott and lighting by Jimmy Lawlor, further enhances the setting and tone in a deceptively nuanced way. The two-story set's accented black railings evoke both the French Quarter and a jazzy cabaret feel appropriate to the score, while the tucked-away settings of Miriam and Hilda's apartments allow for fleshed out scenes. Though ever-present, these set pieces are amazingly nonintrusive during other scenes; Lawlor's first spotlight on each setting feels like a revelation. The simple set becomes transformative, further aided by Lawlor's subtle lighting changes that enhance each emotional tone.
These shifting emotions are deftly brought to life by the beautifully layered performances of the small but universally strong cast. Where the musical could be more refined, however, is in Harrow and Pomerantz's libretto, which suffers in parts by being slightly unbalanced. Much of the second act is spent on characters' inner emotional struggles, which, though necessary, feels overly drawn out, with little action or variation breaking up a string of heavy emotional ballads. Meanwhile, other aspects of the piece are overly vague, such as the details of Miriam's past and the character of The Overseer (Reggie D. White), a narrator so enigmatic that his purpose is somewhat confusing.
Despite these imbalances, For the Last Time navigates its complex subject matter in an engaging way. With atypical musical styles and relationships that go far beyond a traditional love plot, the musical's high ambitions result in a few stumbles. This talented cast and wonderful production, however, ensure that its emotional tale of how we contend with our own consequences ultimately prevails.