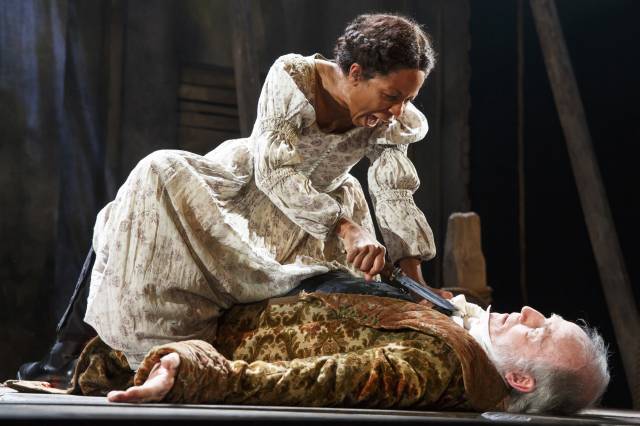 The Liquid Plain, Naomi Wallace's sharp new play now showing at Signature Theatre, has all the trappings of a truly great night in theater. Beautifully lyrical, stark, and gripping, it tells the story of two black women, Adjua and Dembi, living on the docks of Bristol, Rhode Island in 1791 — and their dreams of setting off for a new land. In Bristol, they find the body of a near-drowned white man, who they discover upon his waking has no memory whatsoever of his past life. Together the two women craft an identity for the white man, forcing him to work for them, lest they set him loose on his own — and the people who tried to drown him in the first place find him a second time, and finish the job. The emotional fallout of their meeting becomes the meat of the play. It is a reversal on the master/slave dynamic, and digs into the duality of truth and illusion: who we are, versus whom we remember and think ourselves to be.
Most interesting in The Liquid Plain is the story between Adjua and Dembi, two lovers who have found a small refuge in one another. They are — each for the other — a sanctuary, a lover, a friend, and their relationship makes up the heart of the play. Loyalties shift and changes as each character barters with the others, vying for a spot in the world. And when a sliver of betrayal begins to edge its way between Dembi and Adjua, the results are devastating.
Ito Aghayere is striking and harsh, and gives a star-turn as Dembi, Adjua's lover and accomplice; and Karl Miller brings much needed levity to a play that is often dark and heartbreaking. The incredible sets are by Riccardo Hernandez, rich with visual poetry, and the direction is strong and sure by Kwame Kwei-Armah. It is certainly a play worth seeing, and one which will leave you thinking, talking, and wondering long after the curtain falls.