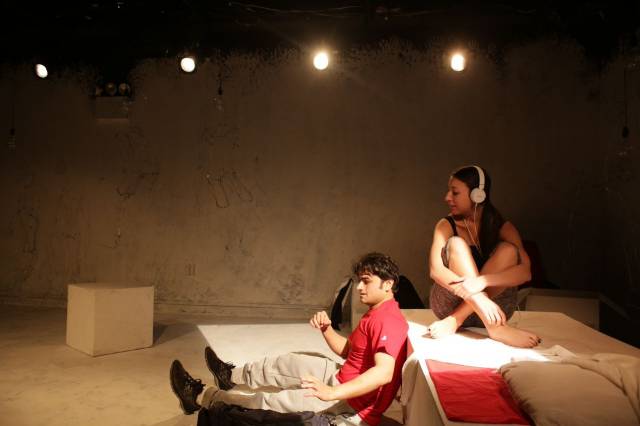 Gruesome Playground Injuries, Rajiv Joseph's sweet and dark two-hander of a play, is currently being presented by FITR Productions at Teatro Circulo — and for good reason. A bittersweet love story, it shows the lives of Doug and Kayleen as they circle on another, first as friends, then eventually as something more.
The play begins with Doug and Kayleen in childhood. Doug is accident prone (to put it mildly), and at the play's start he has a nasty gash on his face — the clear mark of violence. From there, Gruesome Playground Injuries charts the lives of these two best friends, with Doug getting hurt, wounded, and maimed more and more as the years progress. Slowly, they mature into adults; as their pains and bruises deepen, they drift in and out of one another's lives, blurring the line between friends and lovers, until they eventually become ghosts of each other's pasts.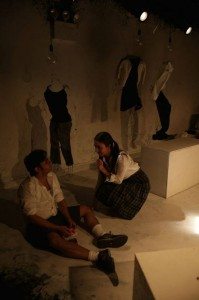 They're an admirable pair, these two: Doug the human punching bag, and Kayleen, the woman terrified of letting him get too close. Jaz Zepatos as Kayleen is charming, and has tenderness tinged with pain. She's lovely to watch and handles the shifts in the play with great deftness. Priyank Rastogi is full of boyish charm as Doug, and his impish delight at helping Kayleen in anything she wishes is palpable. The play's lovely final moment is beautifully wrought by both actors.
Director Ash Mayfair keeps the energy tight and moving in this sharp production, carefully bringing out the feelings of pain and loss, as well as the burn of need that simmers under the play's surface. This play is, at heart, the story of two friends and almost-lovers as they strive to connect, and Mayfair's touching production catches this beautifully. A harsh little play, it shows the tenderness of childhood and the sweet agony of falling in love. It's a play worth seeing, and soon.