Interview: Playwright Chiara Atik on Writing Sex Scenes, Blogging, and the Best (and Worst) Dating Advice She's Heard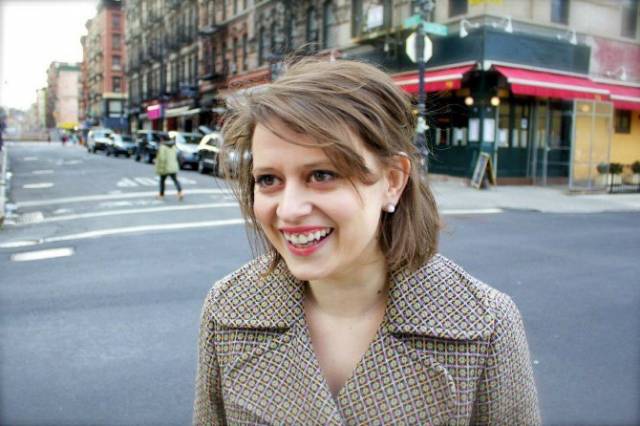 Chiara Atik, the playwright of Ensemble Studio Theatre's newest comedy Five Times in One Night, sat down with us to discuss her writing process, her comedy influences, and the best (and worst) relationship advice she's ever heard.  Her new play is a meditation on the frailties of relationships, as seen throughout time, and spans from the Garden of Eden all the way to the nuclear apocalypse.  A vibrant new writer — and a hilarious one — Ms. Atik is certainly a talent to watch.
You have a published book, Modern Dating: A Field Guide (congratulations!), and write for several different mediums. How do you balance that? Are there forms of writing dearer to you than others?
Playwriting is absolutely my favorite, and the dearest to my heart. I find theater so continuously exciting every single time the lights go down on something you've written, or made to experience with an audience. But that being said, I really, really enjoy writing across all different mediums. I know a lot of playwrights prefer to keep their career pretty streamlined as in only writing for the stage, or only writing scripts, and then having a day job or another way of making money that's entirely separate. It keeps it cleaner and easier to put all of your creative energy into one focus. But for me, it's been really wonderful having multiple platforms to write for. I think it's only helped me; I feel like blogging has made me a better playwright. It's really nice also to have different ways to get your voice out there, and the ability to experiment with different forms. It lets you tell a story and see how people react to different things. As any playwright knows it can take a really, really long time to get something up in front of an audience, when you're writing for the stage. So the idea of just posting something up on a blog, and having it go up next week, and being able to see reactions to it -- in real time -- is great. And you can do that when you write for the internet because you can kind of stalk all the responses and see what people are tweeting about it, and posting about it. It's instant gratification on a different level.
Your book Modern Dating stemmed from your work blogging; can you tell us how that project came about?
I was basically hired to write that book. I was working full time as a dating blogger for a website, "How About We." They wanted a book, and very kindly gave me carte blanche to make it whatever I wanted. It was a super fun book to write, and I'm really proud of it. I don't know that I otherwise would have been like "I'm going to write a book about dating." But it was great, I loved it. It's a fun topic that people have a lot of opinions about, obviously.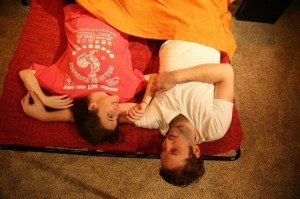 What inspired Five Times in One Night?
It was kind of a writing assignment for myself. I was at Cosmopolitan at the time, filling in for somebody who was on maternity leave, and I was editing their sex section. So I was writing about sex as my day job, basically, every day, and then writing theater. But I'd never written sex for the stage before, mostly because I often find it really uncomfortable. I'm fine with sex in movies and TV, but the immediacy of theater…for some reason the second it starts, I start thinking about someone's mom watching this. So it was kind of an assignment, to see if I could write about the topic that I write about so much in my day job, for the stage — if I could sort of mix those two. And then also to see if I could write about sex for the stage in a way that didn't make me squeamish or uncomfortable with it. So that's kind of where the idea came from. I knew it was always going to be five stories; I knew it was going to start with the last man and woman on earth, and end with Adam and Eve.
Can you tell us anything about your writing process? Did it change at all for Five Times?
It's agony. It involves a lot of GChat, a lot of randomly searching the internet for off-related topics; it involves a lot of needing to go out and get a snack, and then once I've done everything I can possibly do to distract myself, I maybe get 20 to 30 minutes of good concerted writing. It's so slow and inefficient. I guess the process with Fives Times was a little bit different, slightly. Like I said, I was working at Cosmo at the time, so I was commuting to work every day, and I wrote a lot of it on my iPhone on the subway, which was a clever way of tricking myself into thinking I wasn't writing, and that I was just playing with my iPhone and not staring at the final draft. So a good chunk of it came from there, but then came the usual work in front of the computer. But it was fun to write; this one was not agony in the way others have been, I guess.
Your actors, Darcy Fowler and Dylan Dawson, were great, and RJ Tolan did a wonderful job directing. They all caught the tone and the humor. I know Fowler and Tolan are both EST members, but can you talk to us a bit about first working with these people on this project?
It actually was very organic; I knew both of them for a long time, before I even finished writing the play. I think I'd written the second scene, and I thought that it might be a really good scene for Darcy. I told her about it, and then I just was like "I'd love to hear you read the piece." Again, I was still writing it at the time, and it wasn't at all performance oriented. I think either she or I was thinking of who could read it with her, and Dylan came up instantly right away. It was just the obvious choice. It was literally just to read the scene out loud so I could hear it.
After that I finished the play. Youngblood does end of the year readings where you have an invited audience, to hear a first draft of whatever play you've been working on. So I did Five Times and asked Darcy and Dylan to read it. They did, and they were fantastic and they've been in it ever since. I would have never even considered anyone else.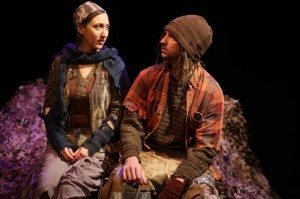 You had a great deal of success and garnered a lot of praise for WOMEN, your mash up of Little Women and Girls. What are some other big influences in your work?
Definitely the work of the other members of Youngblood, which is a writers group for under 30 at EST. It's really, really hugely inspiring to me. But I'm also really interested in both downtown theater and super mainstream contemporary counter-culture. Anything that people are tweeting about is usually what I'm very interested in.
What are some of your comedic influences?
Honestly the biggest humor influence in my life is 30 Rock, which I watch religiously every single night before bed. Every single night. I feel like it makes me a better playwright.
What's the next project you're tackling?
I'm writing a play called I Gained Five Pounds. It's about a girl who wakes up one day and she's gained five pounds, and everything is different.
Your work centers very much on relationships, so can you share the best piece of dating advice you've ever heard? And the worst?
The best piece dating advice? I kind of have two. The first is: everybody deserves one chance, and one date. If somebody has the courage to ask you out, because they really want to get coffee with you or a drink, the least you can do is give them one date. It's half an hour to see what it's like, and then if it's still definitely not, then you never have to see them again. Open mindedness is hugely, hugely important to dating, as is allowing yourself to be open to finding someone that you connect with.
The other piece of dating advice is that you can't hate dating. I mean everyone sort of hates dating on some level; it's enormously frustrating and stressful, depending on where you are in your life and how you feel about it. But hating dating is not going to make it good or easier, it just makes it harder — for yourself, really. The second you can sort of say whatever about it, and let go and have an open mind and not be self-defeatist and have fun — and think of every date as an opportunity to meet somebody new, and maybe find out something interesting about them, or get a good story — I think that it makes the whole process easier for you. And it also makes you more datable and more likeable, because people do respond to that kind of open care-free attitude, more than the "Oh my God, I hate this" attitude. Easier said than done, of course.
And the worst piece of advice? Anything from "the rules." Anything that says women have to behave a certain way to enchant a guy is just terrible. And not true.