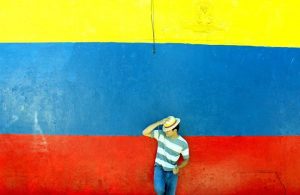 "Locombia," a timely and entertaining hard-hitting political theatre piece by J. Anthony Roman, is everything political theatre should be and then some.  In addition to being good experimental work, "Locombia" (which by the way is an anagram for Colombia, stressing the word loco and thereby hinting at the conditions of life in poverty-stricken South America) is a multimedia lesson in contemporary Latin American history that examines the machinery of oppression and corruption from the point of view of their victims and treats the issues surrounding them with sensitivity, intelligence, and humor.  These lessons are delivered via a series of vibrant monologues by tourists who are visiting Bogotá, Colombia for varying reasons.
The performance begins with an eye-opening description of the 1948 assassination of Jorge Eliécer Gaitán, a senator who spoke out against the army that killed strikers and union organizers in Colombia on behalf of the United Fruit Company.  The following twenty or so monologues, spoken by a cast of five recurring characters, not only maintain the same level of energy and involvement, but subtly increase the pitch via personal, real-life details that ultimately sum up to a very powerful and moving theatre experience.  The monologues revolve around topics such as unemployment, marriage, drugs, corruption, power, tourism, healthcare, cell phones, and public transportation.  Yet each speech, while ostensibly only treating a vehicle of oppression and exploitation, is made all the more moving because each presents the human cost of these instruments of capital -- or, perhaps more aptly stated, as the weapons of capital.   At the same time, each monologue creates a rich, complex, and resonating character whose experience is defined by the terribly high price of survival in a third world dictatorship, either as a tourist or a native visiting the homeland for a short time.  And it is in this fusion of character and experience that the emotional blows of the piece lie.
"Locombia" has that rare quality in the theatre of not having a single dull or boring moment in it.  Even the weakest parts of the script never dropped below a certain level due to the energy and commitment of the performers -- a feat made all the more difficult because of the absence of dialogue.  This is especially true of the two female roles played by Rebeka Piñon-Cassidy and Gillian Glasco.  There are no sets, but the slides are so powerful and revealing that they more than compensate for their absence.  Anything on that stage besides the actors and the slides supporting their monologues would have been a distraction.
The only negative thing that can be said of "Locombia" is that it will not reach enough viewers during its short run. It is the kind of play that is unfortunately all too rare in New York City -- which because of its multicultural make-up, should be drowning in political theatre.