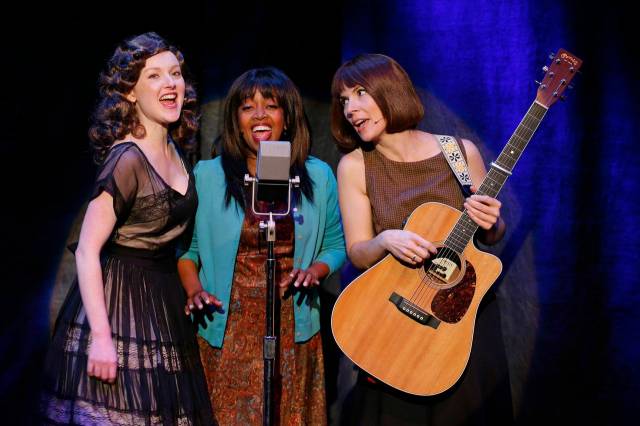 Lonesome Traveler, written and directed by James O'Neil, is playing at 59E59 Theaters as part of the inaugural 5A season. It stars an ensemble cast of nine singers/musicians who tell the story of America from the 1920s through the 1960s through folk songs, ballads and spirituals. Video screens are utilized to project historical footage of key political and pop culture icons throughout the decades.
This is a fun, catchy toe-tapping musical with a hardworking, energetic cast. Immediately before the show starts, the actors are greeting audience members and shaking hands. They encourage the audience to sing along during songs such as "This Land is Your Land", "Goodnight, Irene", "Puff The Magic Dragon" and the high-energy finale "This Little Light of Mine". So many audience members were singing along, clapping their hands, and dancing in their seats. I overheard one remark at intermission that the show fondly reminded him of the songs he heard back when he was in college in the 1950s.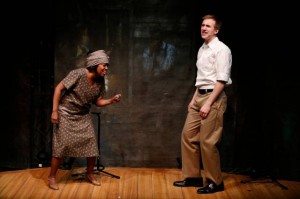 James O'Neil directs the ensemble cast well, and their enthusiasm is contagious, especially during the many sing-alongs. Standouts were Justin Flagg (who played the titular Lonesome Traveler, among other roles) and Jennifer Leigh Warren, who electrified the house whenever they were on stage. Ms. Warren's renditions of "If I Had a Hammer" and "We Shall Overcome" were simply beautiful. Jamie Drake, too, should be recognized for how she sang the ballad "Turn, Turn, Turn".
The only suggestion I have is that perhaps they may want to project the song lyrics on the video screens during the sing along portions for audience members who are not aware of all the lyrics for certain songs. The show runs 2 hours 25 minutes including intermission and will leave you with a smile on your face.